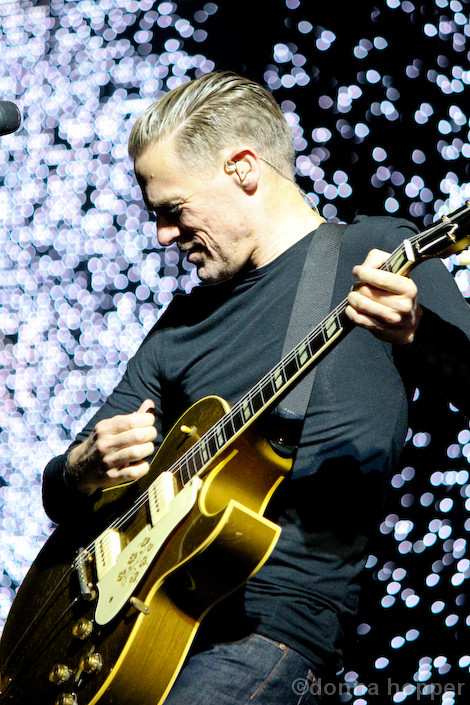 "Hello. My name is Bryan. We have a very long show for you tonight."

Mr. Adams wasn't kidding.

Nearly 4,200 Bryan Adams fans enjoyed a two and a half-hour long concert last evening at the Essar Centre as hit after rockin' hit rolled from the massive stage.

Song selections spanning his 35-year, 10 studio album career included Somebody, Cuts Like a Knife, Run To You, It's Only Love, Heaven, 18 Til I Die, The Only Thing That Looks Good On Me Is You, (Everything I Do) I Do It For You, Do I Have To Say The Words?, Hearts On Fire, Kids Wanna Rock, Can't Stop This Thing We Started, Thought I'd Died and Gone To Heaven, and Cloud Number Nine.

Mr. Adams instructed the eager crowd to "get off your ass" as he busted out his 1997 No. 1 hit Back To You a short time into his set.

Following it with Summer of '69 insured the audience stayed off its collective ass for the remainder of the night.

One lucky lady not only got off her ass, but found herself on stage to fill in for Melanie C on the duet When You're Gone.

After rejecting an enthusiastic front row hopeful, stating: "Honey, that'll get you back stage, not on stage," Adams chose Karen, who identified herself simply as "part of the Sault Ste. Marie society."

Closing the energetic, albeit somewhat mic-shy performance, Adams hugged Karen and joked: "I wish you a lot of luck in your Sault Ste. Marie Society and whatever it is you get up to."

At 52 years of age, and after last night's epic performance, we're fairly confident that Bryan Adams really will be 18 until he dies.