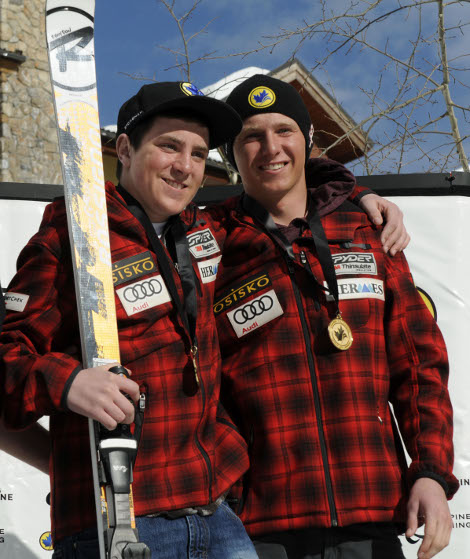 16-year-old Mac Marcoux and his 19-year-old brother BJ (Billy Joe) will be representing Team Canada (and, in particular, making everyone in the Sault and area proud) at the Paralympic Winter Games in Sochi, Russia, March 7 to March 16.
Mac, who lost his sight due to a degenerative eye condition, remains undaunted and courageously fulfills his need for speed, competing in downhill skiing events worldwide, with brother BJ leading the way down the ski hills as his guide.
And, the duo do it very, very well.
2013 was a breakthrough year for Mac, in which, as an International Paralympic Committee (IPC) athlete, he racked up three World Cup podium finishes, including a silver medal at the IPC World Championships in La Molina, Spain.
Now, Mac and BJ have qualified for the Paralympic Winter Games and are preparing for Sochi.
The two young men, getting some much-deserved and much-needed rest at their parents Havilland Bay home after months of being away for training and competitive events, spoke with SooToday.com Wednesday evening to share their story with us.
"We used to go skiing a couple of days a week, every weekend for night skiing out at Buttermilk, then when I started to lose my sight we started looking around at sports that athletes did with similar disabilities, and we looked at Para-Alpine skiing, it appealed to us," Mac said.
"Word got out that BJ and I used to race go-carts when we were kids and did downhill skiing as a family, so Alpine Canada called my Mom."
"One of the directors called my Mom and asked her if she'd ever considered Para- Alpine racing for us, because people found out we like to go fast," Mac said.
Mac told us his mother Lee leaned toward Nordic skiing because "it seemed safer, but we decided we wanted to do Alpine."
Make no mistake.
These guys are the real deal.
"We're going down hills at speeds of 120 kilometres an hour, it's definitely 'giving her!'" Mac chuckled.
Mac explained: "Basically we have radios in each of our helmets that act as walkie talkies so we can communicate with each other."
"BJ is about 20 metres or so in front of me and he tells me what's coming up throughout the whole course," Mac said, adding he really has to "feel" the hill since he has peripheral vision only.
That requires total trust between the two, and it helps that not only are they a good team, but brothers and friends as well.
BJ said: "That definitely makes it easier going down the hill instead of going with another guide."
BJ added: "It's definitely a thrill being a guide," even though he concedes it makes him "nervous."
Still, BJ said: "It's easy because we've been doing it so long together, it seems so natural, and I'm confident enough in my skiing to get Mac to the bottom of the ski hill as fast as possible."
As for going to Sochi to represent Canada at the 2014 Paralympic Winter Games, Mac said: "It's still setting in, it's surreal."
"Seven years ago we started on this journey…we thought about making it to the Paralympics, and it's all happened so fast."
"We've been named to the team and we're down to the last 40 days….everything we've worked for has come together."
"It's super exciting, I don't think I've ever been this excited!" Mac exclaimed.
BJ said: "It's unreal, hard to describe, it hasn't really set in yet, but the excitement is building up inside us and we're just waiting for the Games to come so we can release it all."
"We'll go in thinking of nothing less than winning gold," Mac said.
The two, who have spent most of their time away from home training and competing since August, have future plans to begin separate, postsecondary studies (BJ in dentistry, Mac in sports psychology), but, for now, are savouring this point in their lives.
Mac and BJ have, of course, received enormous support from their father Bill, mother Lee, and younger sister Avery.
Mac said: "The support we get from our family and the whole community, all the Facebook posts, it's so great, it keeps us going and is so appreciated."
BJ added: "The time and patience our family have invested in us is amazing."
The two informed us that the entire Marcoux family will be together at Sochi, marking the first time that they, their parents and sister have been able to be together for a competition.
It's probably safe to say "no better time and place" for the Marcoux family to be all together for the first time at a competition, as Mac and BJ represent Canada and compete for gold at the 2014 Paralympic Winter Games.