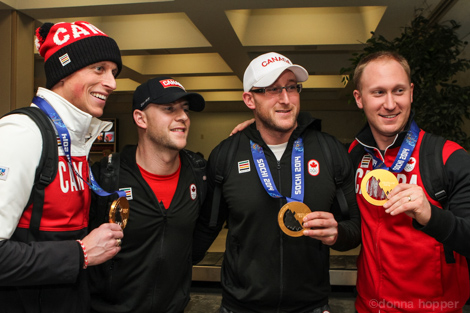 Gold medalist Brad Jacobs says that Sault Ste. Marie is his team's own little paradise, and he couldn't be happier to share his Olympic hardware with the entire community.

He and teammates Ryan Fry, E.J. Harnden, Ryan Harnden, Caleb Flaxey, and coach Tom Coulterman, returned from Sochi, Russia early this morning to a boisterous reception with hundreds of fans and friends at the Sault Ste. Marie Airport.

"This community gets behind athletes like us and special people that do special things because it brings a lot of pride to this area and it helps put Sault Ste. Marie on the map," Jacobs told media. "This gold medal is for everyone to share. This is not just for us. Everyone in the Sault needs to take a picture with this."

"This [reception] is absolutely amazing and I think it would be weird if it happened any other way," said E.J. Harnden. "We've been looking forward to coming home so much and being able to share this with everyone in Sault Ste. Marie."

Share they did as the boys delayed much-needed sleep for autographs and photos with the crowd of 300.

"I couldn't imagine anything like this happening in a lot of big cities and towns. This was super," coach Coulterman said.

According to Team Jacobs, its gold-medal win in men's curling would not be possible without the outpouring of hometown support.

E.J. Harnden hopes that those who spot him wondering about town will stop, say hello, and share their stories with him, while Jacobs looks forward to hearing everyone's 'where were you when…' anecdotes.

"We honestly couldn't do this without the support of everyone in Sault Ste. Marie. So, thank you, Sault Ste. Marie," said Harnden.

"The support's been phenomenal. We could feel it in Sochi. Especially when we were 1-2, no one gave up on the support. Everyone supported more," Jacobs recalled. "It makes you want to win that much more when when you hear everything that people are doing back in the Sault to support you. It's amazing."

Although Coulterman has enjoyed decades as a curling coach, he never expected to see a team of his atop the Olympic podium.

And he was so wrapped up in the experience that he couldn't recall what he felt as Team Jacobs clinched its golden moment.

"[Coaching a team to the Olympic gold medal] is a dream goal. You never really think it will happen, but this one did," he said proudly.

"We knew we could win the Olympics and that was the goal," Jacobs told us. "It's a lot more difficult than people think. A lot of those countries have worked for four years extremely hard just like we have in order to bring home a gold for their country. The way it worked out, it was meant to be for us."

The City of Sault Ste. Marie is reportedly planning a formal celebration to honour the Olympic accomplishments of Team Jacobs in the near future, and SooToday.com will share details as they become available.

Until then, and while Brad, the Ryans, E.J., Caleb and Tom get some well-deserved rest, please check out video coverage of this morning's golden homecoming here.