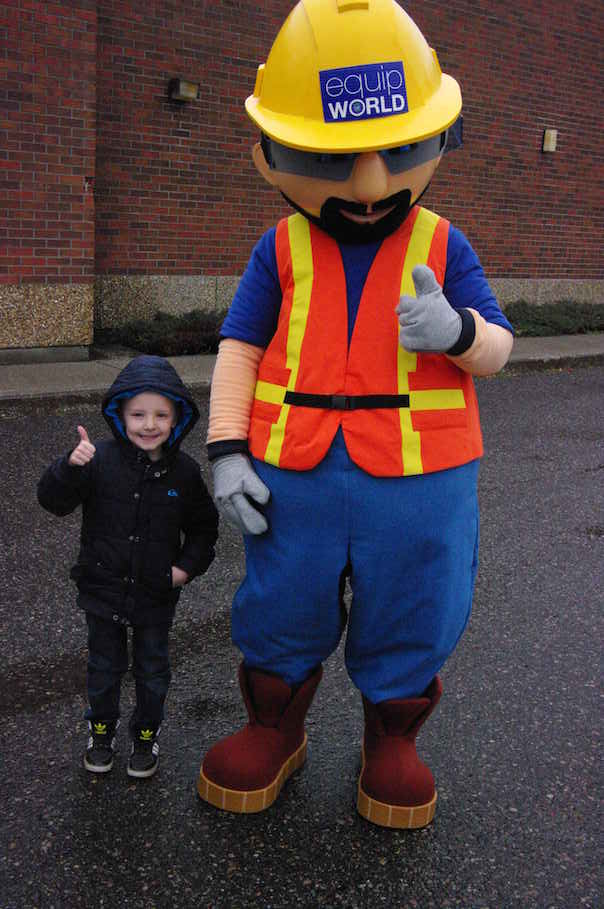 NEWS RELEASE
EQUIPMENT WORLD
*************************
Equipment World is excited to bring a new and exciting family-oriented event to Sault Ste. Marie called "Little Diggers Day" on Tuesday June 17, 2014 from 3-6 p.m. at the Equipment World location, 235 Drive-In Road.
This event promises Family Fun for all ages.
Admission is $1 per child which includes a ballot to win a Bruder Brand Toy Forklift donated by the Manitou Group, and a chance for kids to get up close and hands on with diggers and material handling equipment.
Children also get to meet our life-sized mascot Freddy the Forklift Driver, time to play in a bouncy castle, access to a few other children's crafts and activities from our sponsors and the opportunity to play in our kids Construction Zone that includes a Giant Sandbox built by volunteers from Habitat for Humanity.
In addition to these activities, families can purchase a plastic Toy Construction Hard Hat for $5.
As a bonus, people who purchase the hard hat will get a Loot Bag with a few goodies and discount coupons to our event sponsors.
On-site we will also have construction themed cookies for sale, BBQ food, prize raffle tickets and a few other construction related items for sale.
All proceeds from the day will go to support Habitat's Core Build Program in Sault Ste. Marie.
"Equipment World launched this Little Diggers Day event in Thunder Bay last November in support of Habitat for Humanity Thunder Bay," says corporate Marketing Director Heather Syvitski.
"It was a way for us to include the community in the excitement that construction equipment brings to children of all ages. The event in Thunder Bay was an overwhelming success and we sold out of our limited quantity (150) hard hats within the first 30 minutes! We learned a lot from that event and therefore have offered pre-reservations for the hard hats online. We want to minimize big line ups at the beginning of the event and we want to give preference to those who took the time to pre-reserve/RSVP in advance. With the Summer weather we can take advantage of being outside in our Equipment World yard and children can play in a giant sandbox too."
Aaron Wise, Manager of the Sault Ste. Marie location says, "Equipment World feels that it's not just the products, but it's the people, ideas and relationships that make for successful businesses. Since 1973 in Northern Ontario, we continue to pride ourselves on finding Innovative Solutions for our customers and our company's mission is to invest greatly in each community in which we live and work. We look forward to seeing a lot of our customers, neighbours, friends and family out to support our Charity BBQ Event and the Little Diggers Day"
"In addition to the investment made by Equipment World, we have had some excellent community support to help pull this community focused event together. We would like to thank the following companies for their generous donations, support and promotion of the event: Stork & Bundle, Jeannette's Custom Cakes, Once Upon a Child, The Sault Ste. Marie Public Library, The Home Depot, North Crest Lanes, Celebrate Your Day Your Way, Walmart, Grasshopper Inflatables,
sootoday.com
, SooMill, Rico's Foods and the Staff & Friends of Equipment World who are volunteering to work at the event!"
Wise continues, "This event will happen rain or shine. Displays and Activities will be covered by event tents, we welcome everyone to stop by and come and play at Little Diggers Day."
*************************