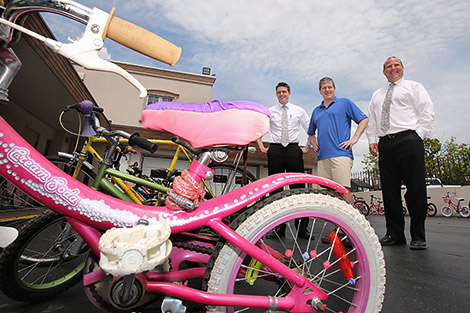 Arthur Funeral Home and Cremation Centre is collecting bicycles to distribute to needy children in the downtown area as part of their innaguaral Bikes and Boards for Kids event.

The business is accepting drop-offs of gently-used bikes and skateboards from 9 a.m. to 5 p.m. weekdays until Wednesday, said general manager Bruce Cooke.

"We need to do something in our community, we wanted to do our part," said Cooke.

He added that the opening of the new Community Resource Centre on Gore Street has offered a great opportunity for downtown businesses to get involved.
Assistant manager Ken Currie said staff have been hard at work inflating tires and oiling chains for the 50 bikes that have been donated so far.
"We have 55 brand new bike helmets to go with them," adds Currie.

Cooke said the Wellington Street East business is working with various agencies and the city police to determine which families should receive bikes.

They hope their central location will make it easier for residents to drop off gently used bikes and skateboards, and more businesses will get involved to improve the lives of those living in the downtown core.

"A lot of people identify a need for change, we need to challenge each other to come up with solutions," said Cooke, who hopes to make this an annual event.

On Saturday, the funeral home will hold a barbecue from 2-4 p.m. and give away the collected bikes.
(PHOTO: (L-R) Arthur Funeral Home funeral director Zak Good, assistant manager Ken Currie and funeral director Peter Stoycheff seen June 9, 2014 standing next to some of the 50 bikes donated so far to the Bikes and Boards for Kids event. SooToday.com/Kenneth Armstrong)