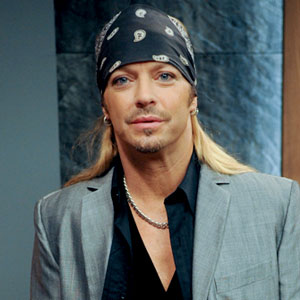 NEWS RELEASE
HURON-SUPERIOR CATHOLIC
DISTRICT SCHOOL BOARD
*************************
Huron-Superior Catholic District School Board and Brett Michaels 'Rock out' diabetes
When it comes to making a difference, Huron-Superior Catholic District School Board (HSCDSB) summer school students from Mario Rocchetta's social science classes shine like true rock stars.
They even have the blessing from world-renowned rock star Bret Michaels to prove it.
For the month of July, Rocchetta challenged his Grade 9 and 10 students to partake in a makeshift "Celebrity Apprentice" style project that saw the youngsters competing in teams to raise awareness and funds for the Canadian Diabetes Association.
The teacher intended for his students to have a hands-on learning experience while making a difference in the community.

"I believe that the best way to teach the curriculum is to have students experience it firsthand," said Rocchetta. "I knew that this project would be a great way to promote teamwork, to reach out and assist others, and to help students develop skills necessary for success in their chosen career paths."
Students from Rocchetta's Learning Strategies and Career Studies courses were very particular about choosing to work on behalf of the Canadian Diabetes Association.
Not only does the cause tie in perfectly with the HSCDSB's commitment to the Healthy Schools Policy, but a student in one of Rocchetta's classes, Oakley Ford, has been living with Type 1 Diabetes since being diagnosed just before the age of 10.

"It can be complicated at times, living with Diabetes," remarked Ford, 15. "It makes me feel good to be a part of this, and that more people are aware of a disease that is affecting so many lives."

Students raised awareness by creating educational posters and hanging them throughout St. Basil Secondary, the site of this year's summer school program.
Funds were raised in a variety of ways, from donations made by students and teachers across all of the classrooms, to support from the community and local restaurant Aurora's Westside.
"Our Board takes pride in working together to accomplish amazing things in Christ," noted Rocchetta. "Principal Maria Burgess and teachers Jessica Forsyth, Sherry Green, Danielle Jones and Andrea Kaminksi were 100 percent on board from day one. We're blessed to have such a caring and committed staff."
On Thursday, the classes made a presentation to representatives from the Canadian Diabetes Association in the amount of $1027.64.
Students were excited by the number, considering the project allowed for just two days of the month to be spent on actual fundraising.
Their teacher wanted to do something extra special to ensure that the students would always remember such an amazing accomplishment.

Rocchetta, who had sent word to Bret Michaels (lead singer of Poison, "Celebrity Apprentice" winner and Type 1 Diabetic) about the students' fundraising efforts, was ecstatic to receive a personalized video shout-out from the rock star to play for the students.

"It's just awesome that Bret took the time to acknowledge our students on a job well-done," gushed Rocchetta. "This hit home for the kids in a huge way. To receive such a heartfelt shout-out from a rock star as big as Bret Michaels, that's a great day for us."

Michaels, a Type 1 Diabetic who was diagnosed at age six, decided to go public about his health struggles during his rise to fame in the 1980s and 90s.
Still on tour with his band Poison, Michaels follows a strict diet and exercise routine, along with regular blood sugar checks and insulin shots to keep himself at optimal health.
The "Every Rose Has Its Thorn" singer addressed Rocchetta's class by congratulating the students on their tireless efforts to make a difference for Diabetes research.
"For all the fighting we do to raise so much money out there for charity, what you did rocked our world," Michaels told the class. "Thank you very much. Rock on my brothers and sisters, rock on."
*************************