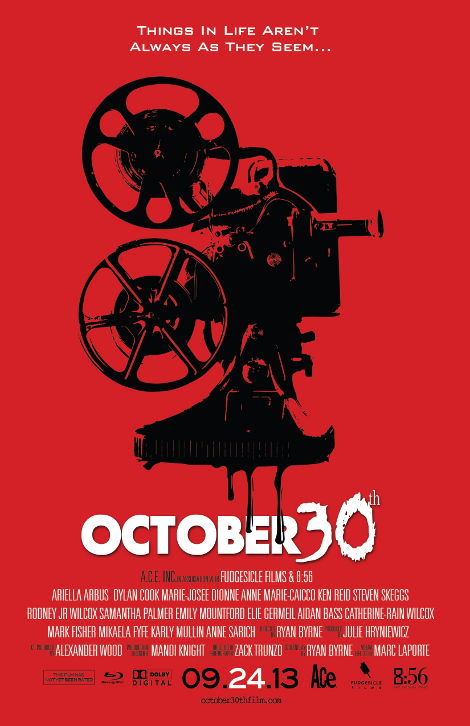 After dozens of hours spent poring over footage for the feature horror flick he's working on, Brendan Garlick has a hard time looking at it objectively.
With the film's trailer released last week, he said it has been satisfying to have people say it's scary.
"Having watched it 200 times, I just see it as a collection of clips that could be a tenth of a second longer or a tenth of a second shorter," laughed the 24-year-old assistant director for October 30th: All Hallow's Eve.
The trailer is the first glimpse the public has had of the film, shot last fall at a location just east of Sault Ste. Marie.
The movie itself is in post-production, being readied for the fall film festival circuit.
This city has seen a number of feature films shot locally in recent years, but none have come together quite like this one.
The movie, the first in a planned trilogy, is the brainchild of writer/director Ryan Byrne, of production company ACE Inc., who brought together a cast of unknowns and a crew entirely made up of local volunteers.
"I thought that was crazy," said Ariella Arbus, who plays 'Jade' in the film. "But they had faith and it turned out well."
Arbus, who has a background in community theatre, but no film experience, said she turned up at auditions not expecting much.
When they cast her in the lead female role, she said she was surprised, though she said any doubts she had about the final product disappeared with the trailer's release.
"Considering it's such a low-budget (project) I think it went above and beyond," she said.
October 30th: All Hallow's Eve is a movie about a movie.
In a nutshell, the story is this: "Traumatized at a young age by the murder of his mother, an ambitious filmmaker writes and plans a familiar retelling of a past he longs to forget."
Of course, horror ensues, and Arbus said things actually got pretty intense on set, as filming took place at night and often in the rain.
The isolation of working in a remote location with only a single emergency phone among them made the shoot arduous, Arbus said.
While she doesn't expect to pursue acting as a career - Arbus is focused on a career with the Ontario Provincial Police - she said she hopes to act again.
In the meantime, she finds it a little weird to see herself on film, but it's also exhilarating and she said she has watched the trailer about a dozen times.
"It kind of blew me away," said Arbus.
Garlick, who also serves as the movie's producer, said the hope is to bring the movie to the Toronto After Dark Film Festival, New York City Horror Film Festival and Chicago Horror Film Festival in a bid to secure funding to film the second part of the trilogy in the Sault with the same cast and crew.
Garlick himself was in a position similar to Arbus when he first started on the movie. He was initially brought on to transfer footage for storage, but gradually found himself being assigned a larger role.
"I started out with really no responsibility or role and I ended up being the assistant director," said the Red Rock, Ont. native, who said he plans to see the production through to the end.
*************************