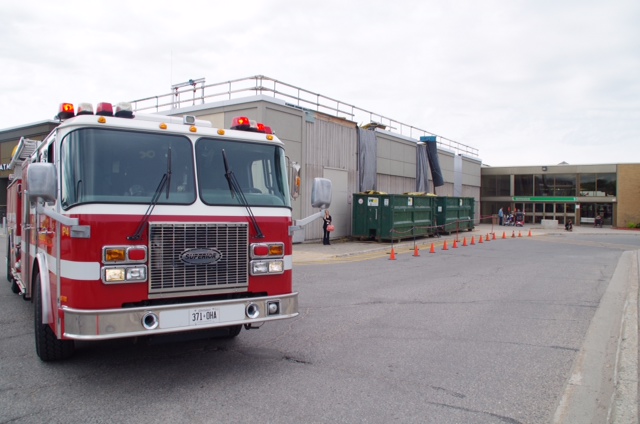 11:26 a.m. update
Mall patrons and store staff were allowed to return to Station Mall around 11 a.m. after a gas leak on the building's roof caused an hour-long evacuation this morning.
Fire officials say construction workers severed a four-inch gas supply line on the roof of the mall near the mall's Dennis Street entrance.
Platoon Chief Terry Dubois said the fact that the gas line was on the roof, rather than inside the building was fortunate as the gas was able to dissipate into the air.
"The only reason there was an odour in the building is some of the escaped gas would have been drawn in through the fresh-air intake grills," Dubois said.
He said the mall was checked for residual gas and none was found.
The evacuation occurred not long after Dana Sullivan came in for her shift at Atmosphere.
"I could smell it as soon as I walked in the door, but they were cleaning in there so I just thought it was products," she said.
She said the fire alarm went off not long after that and an announcement was made over the mall's public address system.
She said the evacuation appeared to have gone smoothly.
Dubois said Union Gas workers were on scene fixing the affected line.
11:15 a.m. update
Station Mall has been reopened.
A gas pipe was cut during construction on the roof, and the building was evacuated for safety.
Everything is now clear, according to fire officials on scene.
*************************
The Station Mall was evacuated this morning after construction workers severed a gas line on the roof.
Fire Services Chief Marcel Provenzano tells SooToday.com that a four-inch gas line was cut by construction workers on the roof of the mall near Carters / Osh Kosh.
The leak has been isolated and Union Gas has cut off the gas supply to the mall.
Fire Services are checking out the inside of the mall for elevated gas levels, but so far they say everything is looking normal.
It's expected that the mall will be re-opened by 11:30am, once the gas in the area has dissipated.
(PHOTO: A fire truck is stationed outside Station Mall where a gas leak caused an hour-long evacuation this morning. SooToday.com/Michael Purvis)
Go to LOCAL2.ca for video from the scene.