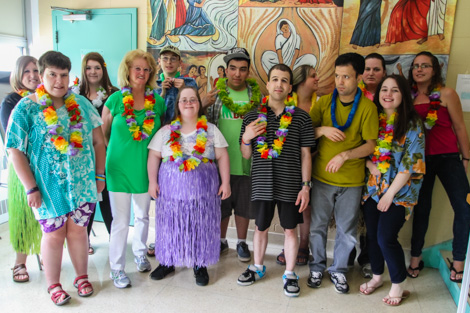 It was Hawiian Day yesterday for students enrolled in the Huron-Superior Catholic District School Board's Breaking Away summer program.

Breaking Away, which began in 2005 as a parent-run grass roots organization for students with developmental disabilities, is a year-round program that offers students instruction in basic life skills such as money management, cooking, and socialization.

Breaking Away's objective is to provide support and encouragement through a program focused on individual development and integration into the community.

The name 'Breaking Away' reflects the wish that these adults have the opportunity to break away from public perception of supposed limitations, and limitations imposed due to lack of opportunity to maximize individuality and independence.

Amanda Gilbraith, interim program director for Breaking Away, told SooToday.com that most of the students are aged 21 and older, but summer high school students range from age 14 and up.

In addition to life skills, students engage the community through fundraising events, bake sales, and enjoy weekly activities such as bowling, swimming and theme days.

Currently, the students are also responsible for an on-site community garden and the care of the class fish, Sam.

"[The most important part of the program] is the social aspect and keeping the students involved in the community. They make friends and learn essential skills after high school," said Gilbraith. "I know a lot of them after high school have no place to go and their skills might regress. This keeps them involved and makes them feel like an active member of the community."

Breaking Away hosts students Monday through Friday from noon to 5 p.m. at the Mount St. Joseph Centre located at 100 Ontario Avenue.

The cost of the program is $40 per student per day, which can be subsidized through Developmental Services Ontario.

For more information about funding options, please click here.

Breaking Away will host a fundraising pub night on October 2 at the Grand Gardens, 68 Dennis Street.

The event includes dinner and dancing, and all proceeds go to support Breaking Away programming.

For more information about the program, visit Breaking Away on Facebook.