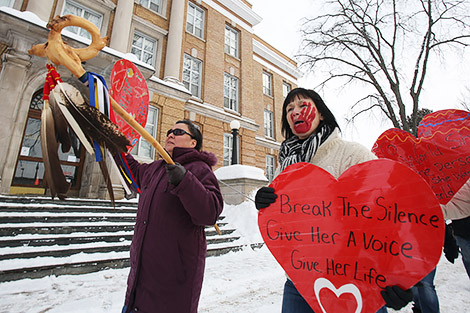 A group of approximately one-hundred women, men and children marched in front of the courthouse along Queen Street Friday morning for the March for the Missing and Murdered Women.
Organizer Bonnie Baranski is disappointed that this event has to be repeated once again.
"Sadly, this is our seventh annual event and the numbers (of murdered and missing women) have been going up" says Baranski.
According to figures Baranski has quoted, there are currently 824 missing and murdered women in Canada, 85% of which are aboriginal.
Baranski added, "I am sad that we have to do this, I want to come here some day and celebrate that there's no more missing women because one is to many, as far as I'm concerned"
Four-coloured ribbons have been tied around the tree trunks along Queen Street.
"The ribbons are symbolic of the 4 directions, and includes all races because there's women missing in every race. The numbers are much higher and over-represented in the aboriginal culture because of lots of reasons," says Baranski.
Many women also wore red or black handprints painted on their faces, which symbolize attempts to silence the women who speak out.
Karrie Oliver has a personal reason for attending, when she was 16-years-old a close friend from school was murdered.
She remembers going to a march back then, and the effect the loss had on her and the family of the murdered teen.
"I remember seeing her mother and listening to her mother speak and the hurt, that never left me," says Oliver.
"It could be me, it could be my daughter, it could be my sister or my Mother," Oliver points out. "The governments are not doing the inquiries that need to be done, it's a non-issue for them."
Baranski agrees, "It's no surprise we're here at the courthouse because there needs to be a national inquiry and national database for missing and murdered women and that's what we're struggling for."
"we look forward to the day we don't have to do this, when there isn't anybody missing, everybody is enjoying a good life," says Baranski.