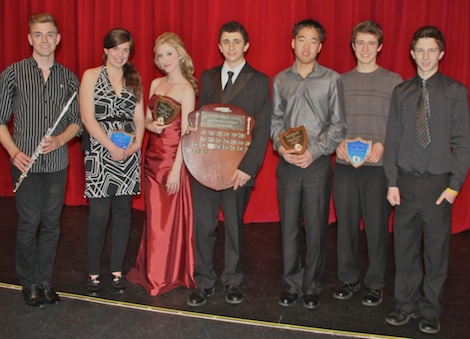 NEWS RELEASE
ALGOMA CONSERVATORY OF MUSIC
*************************
Anthony Gallo wins the Shield

The 2012 Sault Ste. Marie Music Festival concluded on Sunday, April 29 with pianist Anthony Gallo winning the Shield Competition.
Anthony is a student of Stephen Mallinger at the the Algoma Conservatory.
The Shield Competition is an exciting evening of music where the top students in each division (piano, vocal, strings, guitar and winds) compete for the Shield - the festival's top prize that includes a $500 award - donated by the Kiwanis Club of Sault Ste. Marie.
From left to right in the photo are Shield participants Cameron Aitken – flute, Elizabeth Alloi – flute, Maggie Andersen – voice, Anthony Gallo - piano (Shield winner), Lukas Kwon – piano, Matthew Wilkinson – violin, and Matthew Novello – guitar.

This was the 75th year of the Sault Ste. Marie Music Festival.
There were nearly 500 student performances with five guest adjudicators from Sudbury, Ottawa and Toronto.
While most students are from Sault Ste. Marie, some students and choirs travel from as far away as Wawa to perform at the festival.
Over 100 scholarships were awarded donated by local businesses and organizations.
In addition 28 students were recommended to compete in the provincial finals which will be held in Perterborough this June.

Following is a list of the scholarship winners and the students recommended for the provincial finals.

Provincial Recommendations:
Piano - Provincials
Grade 7: Todd Webb
Grade 8: Peter La Rue and Sam Wier
Grade 9: Liam Croswell and Lukas Kwon - Runner up, Hannah Nicoletta
Grade 10: Anthony Gallo and Esther Kang
Diploma (ARCT): Arianna Christenson and Ryan La Rue

Voice - Provincials
Elementary Music Theatre: Todd Webb
Junior Music Theatre: Adriane Mallinger
Intermediate Music Theatre: Maggie Andersen
Senior Music Theatre: Dustin Luck
Advanced Music Theatre: Brittony Le Fever

Grade 7: Adriane Mallinger & Cameron Aitken
Grade 8: Maggie Andersen
Grade 9: Brittony Le Fever and Calyssa Rimkey
Grade 10: Elizabeth Alloi
Choirs: Algoma Conservatory of Music Advanced Choir

Strings - Provincials
Grade 9: Hannah Nicoletta - violin
Grade 10: Noah Nicoletta - violin and Matthew Wilkinson - violin
Diploma or Open: Victoria Jones - violin

Guitar - Provincials
Grade 8: Matthew Novello

Winds - Provincials
Grade 7: Cameron Aitken
Grade: 10 Elizabeth Alloi
Sault Ste. Marie Music Festival Scholarships - 2012
$500: Kiwanis Scholarship - Shield Competition Winner - Anthony Gallo
$500: Kiwanis Special Scholarship (for continued study) - Victoria Jones, violin

Piano - Senior Scholarships
$100: Algoma Conservatory of Music - Lois Hicks Memorial - Lukas Kwon (sponsored by Dawson & Keenan Insurance)
$75: Monica McNally Scholarship (Wong Family) - Anthony Gallo
$75: O.R.M.T.A. - Kurt Kunzel Memorial - Ryan La Rue
$75: Brian Shamess - Hannah Nicoletta
$50: O.R.M.T.A - Peter La Rue
$50: O.R.M.T.A - Sam Wier
$50: Beta Sigma Phi Sorority - Todd Webb
$50: Arthur Funeral Home - Esther Kang
$50: Beta Sigma Phi Sorority Nancy Claridge Memorial - Liam Croswell
$50: Storey Home Furniture - Arianna Christenson
$40: Rino Zorzi - Post-secondary piano - Lindsay Gilbertson

Piano - Junior Scholarships
$100: Algoma Conservatory of Music - Mario Kwon (sponsored by Superior Home Comfort)
$75: Aladdin Carpet & Upholstery Cleaners - Alasdair Bennett
$75: O.R.M.T.A. Katherine Gartshore Memorial - Allison Caldwell-Pratt
$75: Zion Lutheran Church Choir - In Honour of Gladys Strom - Nathan Hallett
$50: Beta Sigma Phi Sorority - Stephen North
$50: Beta Sigma Phi Sorority Nancy Claridge Memorial - Matthew Schumacher
$50: Carricato Family - Colton Oliverio
$50: Carricato Family - William Denninghoff
$50: Carricato Family - Casey Croswell
$50: Cliffe Printing - Heidi Willett
$50: Sault Ste. Marie Public Utilities Commission - Alejandro Izquierdo
$50: Dr. Eugene & Jane Turgeon - Liam Dingle
$25: Art Gallery of Algoma - Abigail Marshall
$25: Law Office of T.F. Baxter - Bennett Newell
$25: Caughill Consulting Services - Cadence Anderson
$25: Dennis Cavanagh - Breanna Hodkinson
$25: Dr. Cotterill & Dr. Oberai - Maise Robere-McGugan
$25: Dumanski Office Interiors - Ryan North
$25: Grandma's Choice - Evan Baldwin
$25: Grandma's Choice - Emma Dingle
$25: Helbling Piano Workshop - Alyssa Stevens
$25: Law Office of Hugh N. MacDonald - James Lees
$25: Dr. & Mrs. T. McAllister - Malcolm Robere-McGugan
$25: Penfold Cartage - Ada Crowder
$25: O.R.M.T.A. - Sarah Gelmych
$25: O.R.M.T.A - Joel Anderson
$25: Quality Inn Bayfront - Aimee Carter
$25: Doug Sykes Insurance - Kevin Li
$25: Soo Mill Buildall - Daria Humeniuc
$25: Stefanizzi Professional Corporation - Alyssa Marrelli
Voice - Senior Scholarships
$125: Timothy Murphy Musical Theatre Scholarship - Dustin Luck
$100: Algoma Conservatory of Music - Sandra O'Brien Memorial - Maggie Andersen (sponsored by Algoma's Water Tower Inn)
$100: Arno Ambel Memorial - Central United Church - Cameron Aitken
$100: S & T Group - Samantha McCormick
$75: Kinsmen: Tony Dionisi Memorial - Breanna Kettles
$50: Paul Moore - In memory of Derek Holder - Victoria Stortini-Snider
$50: Northern Credit Union - Adriane Mallinger
$50: O.R.M.T.A - Erica Provenzano
$50: Ricardo's Big Slice Pizza - Winston Sullivan
$50: The Sault Star - Lindsay Gilbertson
$50: Scotiabank - Danielle Crozier
$50: Dr. Tom & Laurel Young - Cliff Cartmill Memorial Scholarship - Marisa Valois

Voice - Junior Scholarships
$75: Algoma Conservatory of Music, In Memory of Marguerite Griffith - Todd Webb (sponsored by Chris Tossell)
$75: Timothy Murphy Musical Theatre Scholarship - Adriane Mallinger
$50: Kinsmen - Tony Dionisi Memorial - William Denninghoff
$25: Algoma Insurance - Alexandria McCauley
$25: Beta Sigma Phi - Charlotte Reich
$25: Marian's Bookkeeping & Tax Service - Mariah Bennardo
$25: Michael Plastino - Chartered Accountant - Cassandra McCauley
$25: Benjamin F. Pritchard Law Office - Emily Coutu
$25: Quality Cleaners & Tailors - Annie Damignani
$25: Sault Ste. Marie Museum - Bryson Petingola
$25: Laura Szczepaniak - Raili Anne Kary
Strings - Senior Scholarships
$100: Algoma Conservatory of Music String Department - Victoria Jones (sponsored by: Sam Nicoletta at BMO Nesbitt Burns)
$100: Metro Kozak Award - Algoma Conservatory Youth Orchestras
$100: Sault Symphony Orchestra - Matthew Wilkinson
$75: Beta Sigma Phi Sorority - Connie Irwin
$50: Myrna Cameron Scholarship in memory of Margaret Weeks - Benjamin Gulder
$50: O.R.M.T.A - Ed Gartshore Memorial - Emily Aleksa
$50: O.R.M.T.A - Katherine Gartshore Memorial - Emma Nadon-Koro
$50: Thymely Manner - Leah & Laura Nadon

Strings - Junior Scholarships
$75: Algoma Conservatory of Music String Department - Hannah Nicoletta (sponsored by Mio's Furniture Fashions)
$75: Bow Fire Award - Noah Nicoletta
$75: Sault Symphony Orchestra - Todd Webb
$50: Elks of Canada Lodge #341 - Ainee Schryer-O'Gorman
$50: Kinsmen - Tony Dionisi Memorial - Chloe Fisher
$50: O.R.M.T.A. Ed Gartshore Memorial - Malia Kirk
$30: Gertrude's Dream (for Junior Chamber Music) - Grace Kreps & Kaatlin Isaacs
$30: Billy the Page Turner - Emily Williams
$30: Cat & Fiddle - William Caldwell-Pratt
$30: Hawdon Loves Violin - Nicholas Buckner
$30: Hershey & High Notes - Olivia Melisek
$30: Jenna Train Scholarship - Evan Williams
$30: Mickey & The Metronome - Charlie Elder

Guitar - Senior Scholarships
$75: Algoma Conservatory of Music - Roy Holmes Memorial - Matthew Novello (sponsored by Savoy's Jeweller's Ltd.)
$50: Dennis MacGregor Memorial Scholarship - Robert Greifenhagen (sponsored by Algoma Office Equipment)

Guitar - Junior Scholarships
$50: Algoma Conservatory of Music - Joshua Leppanen (sponsored by Algoma Central Properties)
$50: Phyllis and John Bettello - Alejandro Izquierdo
$25: Echotech - Brandon Findlay
$25: Kinsmen: Tony Dionisi Memorial - Andrew Jackson
$25: Life's A Stitch - Eric Vezina
$25: Dr. Daniel & Marabeth Sharp - Emilie Vezina

Winds - Senior Scholarships
$75: Algoma Conservatory of Music - Cameron Aitken (sponsored by Skeggs, Paciocco Law Firm)
$50: Frank Elliott Memorial - Elizabeth Alloi
$35: Rino Zorzi Scholarship - Bethany Janzen
Winds- Junior Scholarships
$50: Carricato Family - Kristina Sagrak
$25: Beta Sigma Phi - Franc Marrato
$25: Kinsmen Tony Dionisi Memorial - Hannah Boyonoski
$25: Rino Zorzi Scholarship - Courtney Irwin
************************