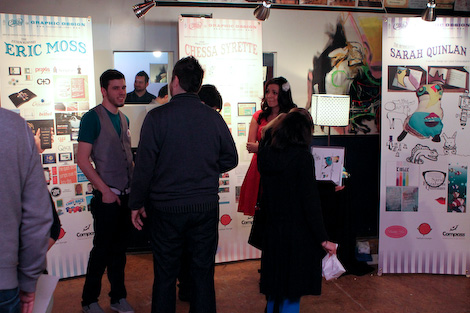 Last Friday, the Sault College Graphic Design 2013 graduating class hosted Brain Candy, a showcase of its design work, at Loplops.

In addition to highlighting the creativity of this year's six Graphic Design graduates, the evening included a huge candy bar (complete with cotton candy and popcorn) and stunning illusions from Ryan McFarling.

Graduate Dennis Houle told SooToday.com that although he possesses a creative mind, he'd never before taken any art class of any kind prior to entering the Graphic Design program.

His original intension was to study an entirely different program at Sault College, but due to low registration numbers, that program was cancelled.

"Graphic Design was my fall-back program," he said. "But it turned out great because I absolutely loved it."

Houle's favourite aspect of the program was the marketing and branding side of design.

Even before graduating, he's accumulated an impressive client list, including Panna, Jade Wellness, Crimson Ridge, the annual Festival of Beer, Loplops Gallery-Lounge, and Bubble Pop.

Now that school is complete, Houle says he'll continue working for himself once he reassesses and further develops his business plan.

"I'm too old and stubborn to work for anyone else," he told us, half joking.
To see samples of Dennis' work, please click here.

For more information about Sault College's three-year Graphic Design program, please click here.

Please visit the following links to learn more about each of this year's graduates.

Chessa Syrette

Cody Spahr

Eric Moss

Logan Chapman

Sarah Quinlan

Dennis Houle