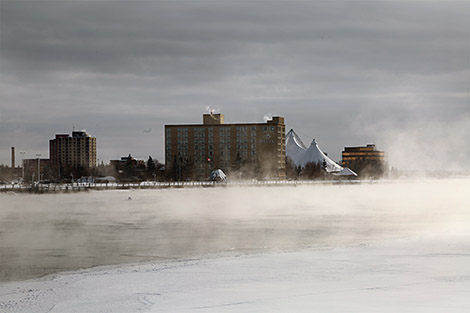 WEATHER ALERTS
ENVIRONMENT CANADA
*************************
4:20 p.m. alert
Blowing snow warning issued for: White River - Dubreuilville - Wawa - Pukaskwa Park - Agawa - Lake Superior Park - Searchmont - Montreal River Harbour - Batchawana Bay - Blind River - Thessalon - Espanola - Killarney - Manitoulin Island
Warning Statement
Poor visibilities in blowing snow Friday.
Southwesterly winds are expected to strengthen across the north and eastern shores of Lake Superior after midnight and for much of Friday.
Snow and blowing snow are expected to produce prolonged periods of time with visibilities less than half a kilometre.
Snow and blowing snow are expected to develop near the North Channel on Friday during the day.
Driving conditions could become hazardous and motorists should exercise caution when venturing out on the highways.
*************************
12:20 p.m. alert
Wind chill warning continued for: Timmins - Cochrane - Iroquois Falls - Chapleau - Missinaibi Lake - Gogama - Foleyet - Kirkland Lake - Englehart - New Liskeard - Temagami
Wind chill warning ended for: Manitouwadge - Hornepayne - White River - Dubreuilville - Wawa - Pukaskwa Park
Warning Statement
Extreme wind chills tonight.
Cold Arctic air remains in place across much of northwestern and Northeastern Ontario.
For the most part winds are light at the moment with the exception of Dryden where they are still experiencing extreme wind chill values.

Temperatures will moderate across Northwestern Ontario today but winds will also increase maintaining cold wind chill values near minus 35 before moderating tonight.
Colder wind chill values near minus 40 are expected across much of Northeastern Ontario tonight thus the wind chill warning remains in effect for those areas.

Exercise caution when venturing outdoors as frostbite may occur on exposed skin in less than 10 minutes.
*************************
(SooToday.com file photo by Kenneth Armstrong)