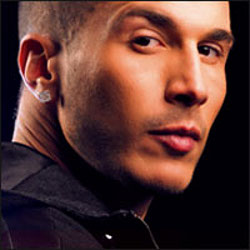 NEWS RELEASE
BLU IN THE SOO
****************************
BLU in the Soo with Shawn Desman is now an all ages event!
BLU in the Soo with Canadian music sensation Shawn Desman has been upgraded to an all ages show to accommodate a greater audience in the Sault Ste. Marie region.
This unique event will not only commemorate the transformation of the historical Old Machine Shop at Mill Square but also celebrate Juno Award winning Desman's first national tour with very special guest and pop sensation Anjulie, having Sault Ste Marie as the final Canadian stop.
The inaugural BLU in the Soo will be the sole event that will gain the national recognition in which Sault Ste Marie can sustain a strong entertainment market, opening it's doors to nationally and internationally acclaimed acts.
Sometimes things are just meant to be.
The Machine Shop's historical architecture doesn't only hold beautiful esthetic value but resonates astounding acoustics, as if it was specifically designed for the performance of live music.
What better way to enjoy Desman's collection of radio hits such as Get Ready, Shook, Let's Go, Shiver, Dum Da Dum, Nobody Does It Like You and Electric/Night Like This winning Muchmusic's Video of the Year Award.
With Desman's connection to massive Canadian events such as We Day (a collection of concerts for social awareness), The Big Jingle Christmas Concert held at Toronto's Air Canada Centre and his movie Alive currently airing on MuchMusic, his larger than life persona will energize not only BLU in the Soo but be sure to create a buzz throughout Sault Ste Marie in the coming days leading up to the grand opening of this unique "cold concert" event.
Dress warm and come early as BLU in the Soo will be sure to be a sold out, all ages event on Friday, March 1st, 2013 at The Machine Shop @ Mill Square, 75 Huron Street, Sault Ste Marie, Ontario.
Anyone age 16 and under must be accompanied by an adult.
Tickets are $29 and are available by visiting www.blusoo.ca
*************************