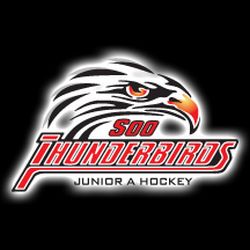 The Soo Thunderbirds extended a pair of winning streaks on Friday night thanks to a win over the Abitibi Eskimos in Northern Ontario Junior Hockey League action.
The Thunderbirds, thanks to a 9-0 win over Abitibi at the Essar Centre, extended their winning streak to 21 games overall while continuing their home-ice winning streak in the process. The Thunderbirds have won 24 in a roa, including all 22 home games this season. The Thunderbirds have not lost on home ice since a 5-2 loss on Feb. 23, 2013.
Darcy Haines led the way offensively for the Thunderbirds in Friday's win with three goals and three assists. Gavin Burbach added three goals and an assist in the win. Goaltender Brian Kment was solid, stopping 19 shots for the shutout. Kment has not given up a goal in 144:14.
Anthony Miller, Joey Miller and Matthew Mitchell also scored for the Thunderbirds. Shane Snow, Jaren Bellini and Nicolas Tassone set up two goals each in the win.
Brody Wagner got the start for Abitibi and stopped 34 shots in the loss.
With the win, the Thunderbird improve their record to 39-4-0-2, good for 80 points and a nine-point lead over second-place Kirkland Lake. Kirkland Lake, with a pair of games in hand on the Thunderbirds, has a record of 34-6-0-3
The Thunderbirds return to action on Saturday night at the Essar Centre when they host the Elliot Lake Bobcats in a 7:30 p.m. start.