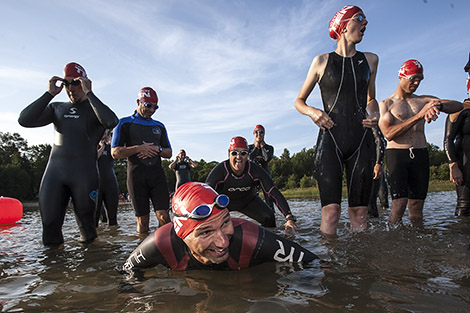 SooToday.com received the following email from Bill Polnick about a meeting Wednesday night for those interested in trying to come up with an event to replace the cancelled St. Joseph Island Triathlon.
*************************
Earlier this month, the St Joseph Island Triathlon announced that at this time the triathlon would not proceed as planned this year.
Since that announcement, efforts continue to pursue opportunities to hold a triathlon or duathlon event this year in the Algoma Region.
After a few weeks of gathering feedback from a survey sent out early March it is time to come together as a community and formally sit down and try to reorganize.
I would like to formally invite interested participants, sponsors and volunteers to a public meeting at Sault College on Wednesday [today] from 7-9 p.m. in Essar Hall (M1220).
The focus of this meeting will be to identify the roadblocks to running the event and look for feedback and support from those in attendance.
The St Joseph Island Triathlon was a successful event over the years due to the hard work of volunteers.
Continued success in running this event would require a new group of volunteers which is why attendance to this meeting is extremely important.
If attendance is good and some individuals step forward and commit to the event then we may have a chance to save the event.
Potential sponsors are also invited to attend as they are critical to the event.
To ensure the safety of all participants a good portion of sponsorship monies is spent on having medical and police resources available for support.
If you require any additional information prior to the meeting you can contact Bill Polnick at bpolnick@gmail.com otherwise we look forward to seeing you on Wednesday.
*************************