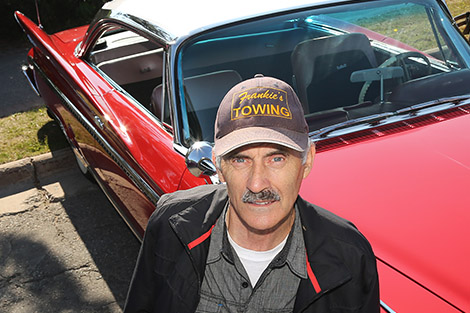 Every classic car has a story.
To own a 1960 DeSoto Adventurer is to have a one-of-a-kind car and Sault Ste. Marie resident Bill Ebare Sr. knows exactly what that's like.
"It's the chance of a lifetime to own a car like this," said Ebare. "I know of two others in Canada. That's a top line car."
But even Ebare didn't know just how special his car was when he bought it.
He purchased the car in 2007 from longtime friend and fellow Sault resident Al Houghton.
Houghton, who passed away in 2012, built the car himself in the mid-1980s and what many people, including longtime friends, didn't realize was the serious hardware the car had accumulated.
Included was a third-place finish in 1987 in Chicago at the second-annual National DeSoto Club convention.
Two years later, Houghton brought the car to the fourth annual event in Detroit where the car took top spot in its class.
The car was a lengthy project for Houghton at the time.
"It took him five or six years just to look for parts for that car," said Ebare. "It's impossible to find those taillights. When people built these cars, (the small chrome pieces) would fall out and get lost. I've got two sets of taillights at home."
Along with the accolades, the DeSoto has made appearances in numerous magazines, including Jay Leno's Garage.
The car, produced by Chrysler in the late 1950s, had a five-year production run, ending in 1960.
It was originally designed as a high performance sports car before becoming a limited production high-performance model.
The 1960 DeSoto was produced as a top trim model and 1960 was the only year that the car was offered in a variety of colours.
How rare is the car?
It's near impossible to find parts for.
"This car will never be reproduced in any form," Ebare said. "You have certain people who love these cars but the parts, they don't make them anymore. I can build you a '55, '56, '57 Chevy. Every one of those cars I can order the parts, they'll deliver them here and we can put them together. You can buy the '55 Ford or the '32 Ford, motor and all, they'll ship that right up."
Ebare is heavily involved with local car club Soo Rebel Cruisers.
The club has held numerous car shows with proceeds going to locals charities such as ARCH.
The Ebare name is also well known in local stock car circles.
Ebare, along with brother Larry, were regulars at Laird International Raceway over the years.
(Photo: Bill Ebare with his prized 1960 DeSoto. Kenneth Armstrong/SooToday.com)