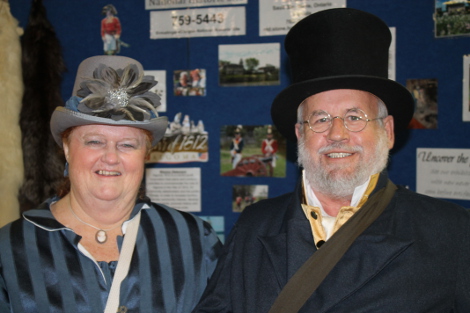 The eighth annual Passport to Unity festival, a three-day celebration of Sault Ste. Marie's multicultural population, wrapped up with 'A Taste of Unity' at the Essar Centre Sunday.
Indigenous people (First Nations), French, British, Irish, European and East Asian settlers, and more recently, African/Caribbean, Middle Eastern, South Asian and South American newcomers, have come together to make the Sault an increasingly diverse community.
Myril Lynn Brason-Lediett and husband Darcy Brason-Lediett (pictured) were on hand at the Essar Centre Sunday to represent an historical look into the role played by the British and Europeans in our country's development.
Myril Lynn, an historical re-enactor with the Ermatinger-Clergue National Historic Site, was dressed as what she described as a "semi-prosperous lady" of the War of 1812 period.
Myril Lynn was born and raised in Sault Ste. Marie, but can trace her roots to Sweden on her mother's side, Scotland and Ireland on her father's side.
Referring to her ancestors who settled in Canada, she said "they showed strength in adversity."
"I think they showed a lot of strength coming to a new country, having the courage to settle in a location that was pretty remote, away from other populated areas, to start farming and being able to discover ways of preserving food so they could survive through the harsh winters."
While not taking anything away from Sault Ste. Marie's own gold medal-winning Brad Jacobs rink, Myril-Lynn said "I'm very proud to see Swedish and Finnish curlers do well, and it's nice to sample foods from Finnish bakeries, the type of baking I enjoyed when I was a child."
For Darcy, Sunday's Passport to Unity event was his first as an historical re-enactor with the Ermatinger-Clergue National Historic Site, dressed as a visitor to the North West Company's fur trade post in the War of 1812 era.
Darcy, whose great-grandparents came to Canada from England and Scotland, moved to Sault Ste. Marie from Blind River in the 1990s.
Though his ancestors came here a long time ago, Darcy said he is proud of his British background.
"Very much so, primarily because of their pioneering spirit."
"My Scottish ancestry opened up the area north of Bruce Mines in agriculture."
"My great-grandmother was a midwife and helped deliver over 200 babies in that area."
"On my father's side, they built houses and boats (the British known for their shipbuilding), and some of that has come down to me as a teacher in building construction."
Indigenous Canadians, Darcy said, played a huge role in helping his ancestors with natural cures.
There was a spirit of cooperation between his own family and indigenous people in the Blind River area.
"We went to school and worked together, along with French people, as one people," Darcy said.
Observing the sense of harmony between many ethnic groups at the Essar Centre Sunday, Darcy said "even now we have new cultures coming to town and I don't sense hostility on any side."
The Sault Community Career Centre's Alisha Rosset and Duane Moleni are Passport's two main organizers.
Moleni, microphone in hand, charmed the crowd in the arena Sunday, acting as a roaming master of ceremonies.
Rosset spoke to SooToday.com and estimated "at least a thousand people" had showed up at the Essar Centre by noon hour to take in a sampling of many cultures, enjoy food from 20 food vendors and view arts and crafts done by 45 arts and crafts vendors.
Flamenco dancer Maria Osende, Globe Beats, Ukrainian dancers and other performers provided live entertainment at Sunday's event.
Rosset said this year's festival has been "amazing," with more people than expected at Friday's opening ceremonies at Algoma's Water Tower Inn, which featured Osende's flamenco dancing and other activities.
"We had to bring out more chairs and start a little bit later, but that's a good problem to have, it was awesome and went extremely well."
This year's Passport to Unity festival included educational workshops from Pier 21 (Canada's Halifax-based immigration museum), dance workshops, and a well-received performance by critically acclaimed group A Tribe Called Red at Sault College.
"This is the first year we've had six events over three days and four workshops…this is the most action-packed year we've had," Rosset said.
"After setting everything up, it gave me goose bumps to see the weekend close off like this, watching people have a great time with lots of food, lots of arts and culture vendors, more entertainers than we've ever had."
"Every year it gets bigger and better…who knows what next year has in store," Rosset said.