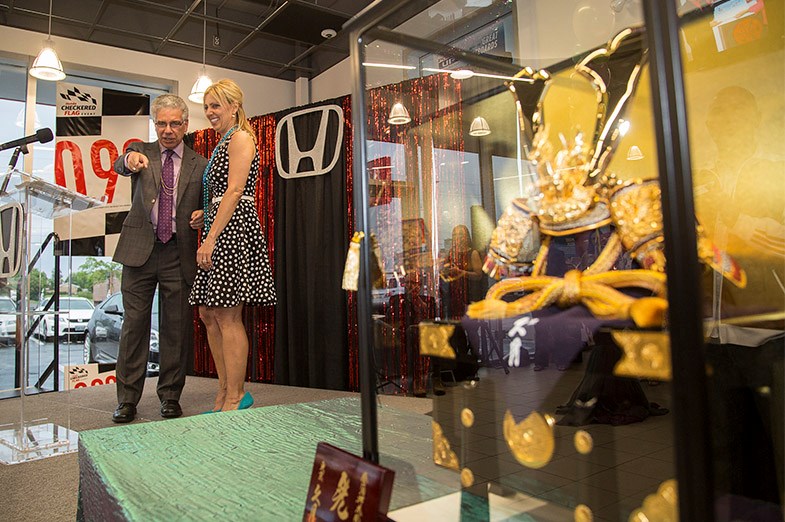 The opening of the new Great Lakes Honda location on Pim Street included some extra special guests, as owner Francine Floreani welcomed executives from Honda Canada.

"Having them come to Sault Ste. Marie is a testimony that they stand behind us as a dealer and they really stand behind their product," said Floreani.

Honda Canada president and CEO Jerry Chenkin was in attendance and presented the dealership with a decorative Japanese kabuto helmet, which he said signifies a fighting spirt.

"We decided that for any dealer opening we had to show something that represent what dealers stand for. Certainly in Francine's case this really represents her fighting spirit," said Chenkin.

Floreani and her husband purchased the Great Northern Road dealership in 2010 and purchased the Pim Street location shortly after.

"We had kind of outgrown the space. It was limiting in the fact that we couldn't display the cars well," said Floreani.

The new location on Pim Street was formerly Boston's, which closed in 2010.

The building was gutted, creating a brand new interior to display the dealership's cars, motorcycles and ATV's, as well as new offices that the dealership makes available for non-profits.

"Being community driven, one of the initiatives that we have is a space where different groups can meet free of charge so they can make positive change in Sault Ste. Marie,"

The former Honda dealership on Great Norther Road has already been sold.

Floreani said a dirt track is being built adjacent to the property on Pim Street to allow customers to test drive their power sports products, like ATV's.

Being present for the opening brought back memories of Chenkin's first ever problem-solving dealer visit, which happened in 1977.

"The product has changed with autos, motorcycles and ATVs. What hasn't changed is the fact that it is about people. You can have a great facility like we have at Great Lakes Honda and you can have fabulous product, what makes the difference is the relationship we have with the customer," said Chenkin.
(PHOTO: Great Lakes Honda owner Francine Floreani speaks with Honda Canada President and CEO Jerry Chenkin during the dealership's grand opening June 11, 2014. SooToday.com/Kenneth Armstrong)