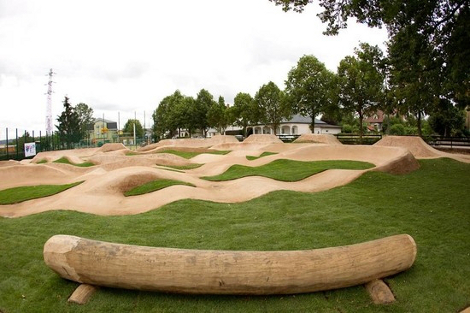 A group of local bicycle enthusiasts is still working towards its dream of establishing a hard-surfaced pumptrack at Esposito Park.
A pumptrack includes features such as rollers and berms that cyclists ride up and over on.
As cyclists ride along, they accelerate and "pump" along the track.
After the City of Sault Ste. Marie and the pumptrack user group held an open house in April 2013, and after Council approved $50,000 in funding for the proposed facility in June, 2013, an update has been prepared by city staff for Council's meeting on Monday.
Though the city has put aside $50,000 for a "natural" or dirt pumptrack, the user group, which is responsible for any funding over $50,000, prefers a hard-surfaced pumptrack.
The city report notes that the cost of a hard-surfaced pumptrack was estimated, in September 2013, to be between $150,000 to $200,000.
A preliminary design of the pumptrack is estimated, by Kresin Engineering, to cost $250,000 for construction, professional fees and a contingency amount.
So far, the pumptrack group has raised $75,000 for a hard-surfaced facility.
In addition, the group is putting together an application for an Ontario Trillium Fund (OTF) grant.
However, the city staff report for Council states OTF typically provides no more than $30,000 to $40,000 for any project.
The pumptrack group is currently meeting weekly to discuss design and funding issues, the city staff report states.
Council is expected to receive the city staff report as an information item Monday.