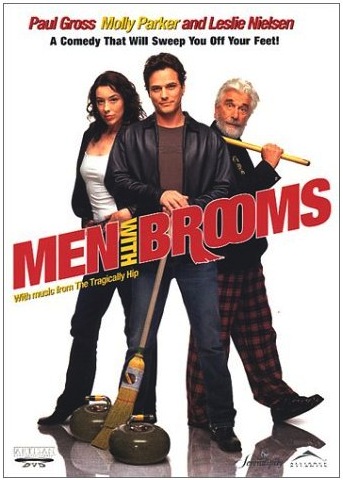 Long before Team Jacobs made curling exciting and sexy, there was Paul Gross.

The Canadian actor, widely known as Constable Benton Fraser in the television series Due South, made his big screen directorial debut with 2002's Men With Brooms.

With virtually no knowledge of the sport of curling, having only watched it a few times on television, Gross told SooToday.com that this film presented some unique challenges.

He dove in with both feet, writing, starring in, and even composing some of the music for the picture.

And aside from learning how to curl without pulling a groin muscle, Gross told us that directing was particularly arduous.

"It's one thing to sit back as an executive producer and say: 'Well, you should have shot it like this.' It's another thing to figure out how to shoot it. There was quite a lot more pressure being the director," he said.

"I was surrounded by wonderful people. Where I lacked, they made up for it. We all had a wonderful time doing it. And doing anything with Leslie Nielson was always such an incredible privilege and so much fun. He was one of the greatest at this kind of comedy."

As an avid supporter of Canadian television and film, it's no surprise that Gross is an advocate for the first annual National Canadian Film Day (NCFD) presented by Reel Canada in 44 communities across the country on Tuesday, April 29.

"It's quite a great idea," he said. "You've got everyone across the country attending Canadian movies. It's terrific."

It's only fitting that Reel Canada chose Sault Ste. Marie to screen Men With Brooms to commemorate the event and the achievements of our own Olympic curling gold medalists, Team Jacobs.

A free public screening will be hosted at Galaxy Cinemas in the Station Mall on April 29 at 1 p.m., and will include a special appearance from E.J. Harnden and Ryan Fry who will introduce the film.

A recent news release issued by Reel Canada states that NCFD follows "a month-long campaign to raise awareness of the achievements of Canadian filmmakers and to encourage Canadians across the country to rise above their aversion to self-aggrandizement and actually watch a great Canadian film."

Campaigning on behalf of Canadian film and television content is not a new endeavour for Gross who, along with producer Robert Lantos, director David Cronenberg, and others, actively backs Starlight TV, a proposed Canadian content-only movie channel.

Although the channel's original application to the CRTC was denied in August 2013, a second application was submitted for approval earlier this year and Gross hopes that some version of the channel's original idea will soon come to fruition.

"Even though the major networks will argue that they broadcast Canadian films, they put them on at odd hours, and they're hard to find," he said. "The thought [with Starlight] was one store and you know what you'll get when you go there."

According to Starlight, Canadian work accounted for approximately 5 percent of content aired by paid television services in 2011.

Gross feels it's unfortunate that many Canadian-made films simply get 'orphaned' following release due to lack of distribution, financing woes, and nominal interest in independent cinema by the general movie-going public based on assumptions that Can-con is pretentious, artsy, or just plain bad.

"Film financing in general world-wide is really tough at the moment and the audience for independent cinema, which is all films other than U.S. studio films, has been very shaky in the last few years," he said.

If what you want from your movie-going experience involves the giant roller coaster thrill rides currently popular from major Hollywood studios, then anything produced outside of the United States will likely fall short of your expectations, Gross said.

However, when compared to similar independent film markets, Canada ranks favourably, landing "in the top third of countries attending their own cinema when it's available to them."

"If you compare Canadian movies to the rest of the world of independent cinema, we're fantastic," he said. "We regularly get nominated for Academy Awards and they're played world-wide."

Fostering the appreciation of Canadian cinema is the intent of Reel Canada, a non-profit organization that for the past eight years has helped teachers introduce their students to the diverse and growing world of Canadian film.

According to Reel Canada, National Canadian Film Day is "a light-hearted intervention for our national consciousness, a wake-up call to anyone who has not yet been exposed to the great cinematic stories we tell one another in this cold, vast country. It is a way to get over ourselves and have some fun!"

To learn more about Reel Canada and its initiatives, please click here.

For more information about National Canadian Film Day, click here.