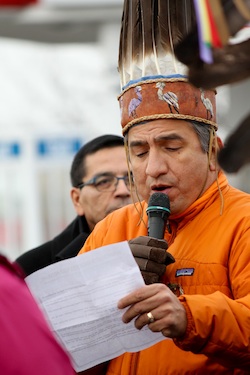 Batchewana First Nation of Ojibways is launching a specific claim for compensation for the loss of the historic whitefish fishery at the rapids/falls of the St. Marys River at Sault Ste. Marie, Ontario.
A Batchewana FN media advisory states: "Canada is liable to BFN for the economic losses it suffered due to the loss of the whitefish fishery. The Crown had a fiduciary duty to protect this asset and failed to do so. The First Nation is claiming damages in the amount (capped by the monetary jurisdiction limit) of $150 million."
Further details will be provided by Batchewana First Nation Chief Dean Sayers (shown in file photo) at news conference tomorrow at the Batchewana administration office.