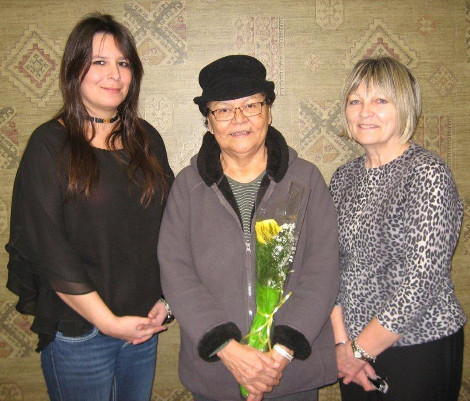 PRESS RELEASE
ZONTA CLUB OF SAULT STE. MARIE AREA
*************************
As a celebration of International Women's Day and Zonta Rose Day on Saturday, the Zonta Club of Sault Ste. Marie Area presented a yellow rose to 10 local women and girls who are role models and have made outstanding contributions to our local and/or global community.
The following were honoured:
1. Barb Nolan, a retired education counsellor at Sault College, who has dedicated her retirement to the promotion, teaching and retention of the Ojibwe/Anishinabe language at all levels of education.
2. Gabi Doleske, a teacher at Sault College and Zonta member who has spearheaded the Zonta and Sault College Days for Girls project with passion and deep commitment to education and dignity for young girls.
3. Kim Moreau, an accomplished business woman and community leader who has been an integral part of a community breast cancer fundraiser and strong supporter of other women in our community.
4. Lil Bressan, a Grade 12 student at St. Mary's College, recognized not only for her leadership qualities at school but also her commitment to serve in various roles in her community and beyond in Guatemala as a Wells of Hope volunteer.
5. Mary Rossiter, the Sault Ste. Marie Town Crier, well-known for her devotion to her community as a volunteer and fundraiser to at least 50 not-for-profit organizations in the Sault and beyond.
6. Norma Hankinson who has been a dedicated volunteer for over 60 years with her church, St. Vincent's Place shelter, Meals on Wheels, The Eastern Star and the Davey Home Tuck Shop.
7. Paula Lang, an activist for survivors of domestic violence and one of the founders of the Freedom Sisters, a support group for survivors.
8. Rita Wagner, a volunteer committed to service in our community in the Prince Township Library, Prince Township Women's Institute, her church, St. Vincent Soup Kitchen and the Retired Women Teachers of Sault Ste. Marie.
9. Sandy Fulcher, a retired teacher who continues to teach both the Finnish language to children and crafts and cooking at the Steelton Senior Citizens Centre, and also serves on the board of the Ontario Finnish Rest Home Association and as Area Director for the Retired Women Teachers of Ontario.
10. Sarah Nelson, a Grade 5 student at St. Pius X School who since Grade 2 has donated over $12,000 to ARCH through her small business, Sarah Bugs Sweet Treats.
"Presenting each of these wonderful women and girls with a yellow rose on International Women's Day is a simple act of recognition for the contributions they have made to Sault Ste. Marie and area and/or globally. The Zonta club is proud and privileged to do this," said Gayle Manley, president of the local club.
Zonta is a global organization of executives and professionals working together to advance the status of women worldwide through service and advocacy.
*************************