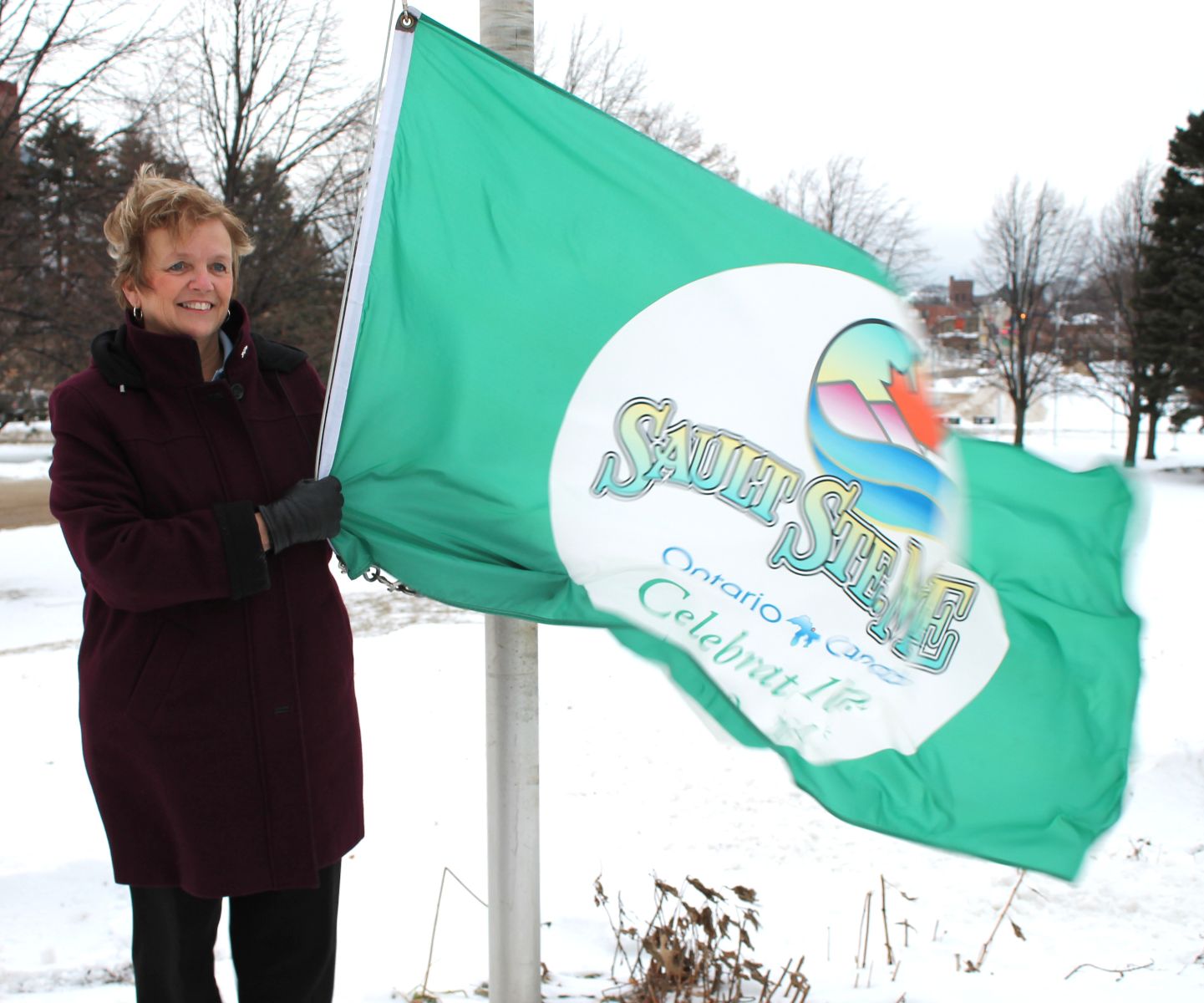 Mayor Debbie Amaroso officially lowered the Celebrate 100! Flag at the Civic Centre Friday, as Sault Ste. Marie says goodbye to its milestone year of 2012 and looks forward to 2013.
2012 marked the 100th anniversary of an April 1912 Act by the Provincial Legislature to incorporate the City of Sault Ste. Marie, and local festivities were held throughout the year to celebrate Sault Ste. Marie's growth into a hard-working, fun-loving, community-minded city of 75,000 people.
Also lowered was the large Celebrate 100! banner that was displayed over the top of the Civic Centre's main entrance.
Both the flag and the banner will be kept in storage, but not in the Celebrate 100! Time Capsule at the Sault Ste. Marie Museum.
Mayor Amaroso told SooToday.com "it's been a fabulous year of celebration."
Sault Ste. Marie has seen its good and bad times, the most recent negative development being the disappearance of St. Mary's Paper—and jobs—from the community's economic landscape, but Amaroso said Sault Ste. Marie is a resilient city.
"We certainly continue to have our challenges, as every Northern Ontario community has" Amaroso said, "but we're optimistic and we're working with the new owners of the St. Mary's site, Riversedge, and look forward to what they bring to the table, and we'll work very closely with OLG to make sure that what we have here is maximized and look forward to the opportunities that will come through their modernization process."
Amaroso continued "we're also looking forward to another year of construction projects, hopefully the Bridge Plaza will get underway and we continue to be optimistic and keep our eye on diversifying our economy and stay as stable as any northern community can."
""I think we've shown that we're leaders in Northern Ontario. We were the only community that didn't see an out-migration according to the census last year, and our growth was small but it was growth nonetheless."
Amaroso continued "the most meaningful moment of Celebrate 100! for me, and I'm a bit selfish here, was when I received the Queen's Diamond Jubilee Medal from the Governor-General (David Johnston) in August. But that visit to the Sault from them (Johnston and his wife Sharon) was spectacular. Having them come home, having their energy here, it was a great couple of days with them. They are really wonderful people. Sault Ste. Marie is proud of them, and they are certainly proud to be Saultites."