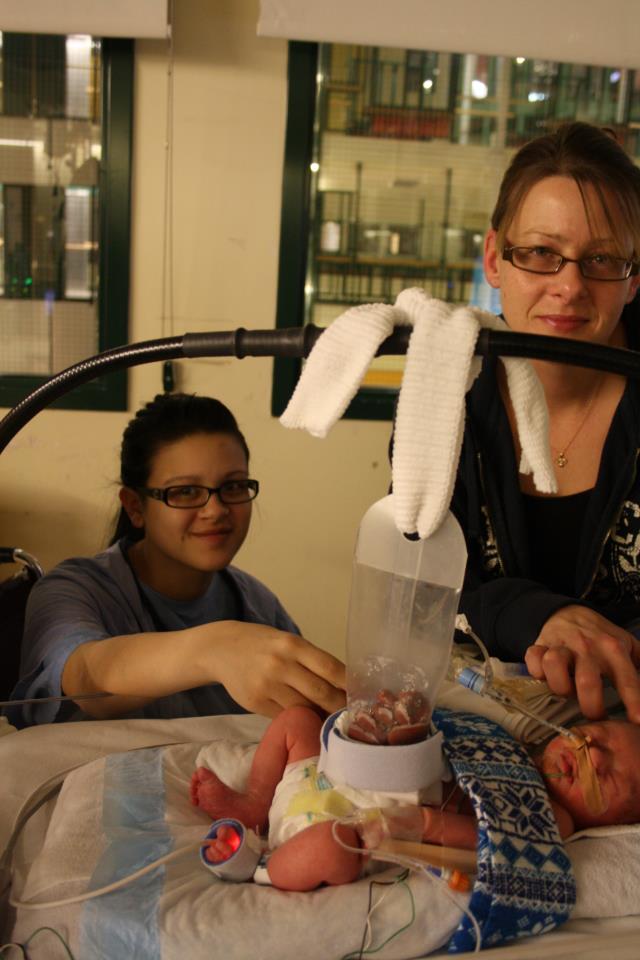 Early in January SooToday.com's Connie Carello introduced our readers to Alyssa Plamenco, who knew she was in for some challenges when she found out she was pregnant at the age of 17.
The challenges escalated dramatically when Plamenco was told her unborn son, Bentley, was developing with his intestines outside his body.
She and her family were told Bentley would require a post-birth surgery for a rare condition known as Gastroschisis, a condition that affects 1 in every 500,000 unborn babies.
SooToday.com is ecstatic to report that baby Bentley was born by emergency Caesarian section at Mount Sinai Hospital in Toronto on February 6 at 4:31 a.m.
As reported in his birth announcement, he weighed 5lbs 2 oz.
Bentley's grandmother told us she and Alyssa have been in Toronto since February 5, when they were air ambulanced to Mount Sinai Hospital because Bentley was in distress.
It took doctors four hours to stabilize the tiny newborn boy and then he was rushed across to Sick Kids Hospital for his care and eventual surgery.
"They were able to do his surgery to close the hole in his belly and put his intestines back in on February 14," said grandma Christina Lapossie. "He is in the recovery process and doing fairly well, at the moment. The recovery process is what we are told to be the longest part of his condition. We may be here for another eight weeks."
Baby Bentley is spending time with his mom and grandma mainly because of the work of a new Sault organization called Helping Hands which is led by Kelly Turner, says Lapossie.
"Without Kelly Turner doing what she is doing, without Helping Hands, Alyssa and I would not be able to stay in Toronto," she told SooToday.com today. "It would be impossible for us to be able to afford to stay at Ronald McDonald House, travel to and from Sick Kids, eat and still have to worry about all the daily bills piling up back home."
Lapossie had to take a leave of absence from work to come to Toronto with baby Bentley and his mom, Alyssa.
Plamenco is 17 and Lapossie has to be with her and the baby for medical and legal reasons.
Soon, medical staff at Sick Kids Hospital will begin small feedings of breast milk for baby Bentley to see how his intestines process it, said Lapossie.
At that point they also have to watch and make sure that all his organs function properly and work together, she added.
"We have been warned he will have good days and have bad days during this long process, and he may need future surgeries, but we wont know for sure till we cross that bridge," she said. "Bentley's dad and Papa come down for periodic visits, but unfortunately we can not afford for all of us to be here."
What they can do, though, is very much because of the generous support of the community of Sault Ste. Marie and Helping Hands.
"We are in absolute awe with the community that has formed due to Bentley," said Lapossie. "As to how many lives he has touched and changed without even knowing it. Bentley is my hero and Kelly Turner is my Angel. Every day between our visits with Bentley, i check into the Helping Hands site and i never leave that site with a dry eye, everyone has been so kind, so encouraging and so supportive. I look forward to being able to pay it forward when we get home."