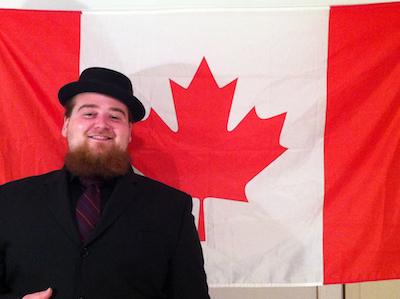 There are now three candidates running for mayor of Sault Ste. Marie in the October 27 municipal election.
Austin Williams, a 21-year-old Algoma University student and academic research assistant, filed his nomination papers Friday afternoon.
"I see a city with a lot of potential that's being over regulated," Williams told SooToday.com.
This will be Williams' second election campaign this year.
He picked up 115 votes as the Libertarian Party candidate for the Sault Ste. Marie riding in the June 12 provincial election.
Williams said he is not attempting to incorporate Libertarian Party views into his mayoral campaign, but will be running for mayor "on a platform of liberty."
"I feel the people of Sault Ste. Marie should be able to take control of their own lives and run their own businesses instead of operating under imposed laws concerning hours of operation, and the Boxing Day holiday law," Williams said.
"There are a lot of restrictions on your personal life such as mandatory licensing of dogs which I don't really think serves any purpose, it's just a municipal money grab," Williams said.
Williams told us he would like to end what he called the monopolization of services performed by the city's public works department and open these services up to the private sector.
Williams has promised to donate 60 percent of his salary, if elected mayor, to go towards creation of Community Food Forests on public lands around town to help feed the city's poorest and end their dependence on food banks.
Williams holds a Teaching English as a Foreign Language (TEFL) certificate from the University of Toronto, and is currently working on a double major in history and politics and an interdisciplinary aboriginal learning certificate at Algoma University.
Debbie Amaroso, incumbent Sault Ste. Marie mayor, filed her nomination papers early this year.
Challenger Ted Johnston announced his candidacy in June.
A press release, released by Williams Friday, is attached.
PRESS RELEASE/OPEN LETTER FROM AUSTIN WILLIAMS
*************************
I would like to begin by thanking all of those Liberty minded individuals who supported me during the Provincial Election.
I hope I have made you all proud, and hopeful for the future.
Next I would like to announce that I am the second person nominated to be the Mayor of Sault Ste. Marie this election cycle!
I hope to bring a youthful perspective and fresh ideas to the City government this election.
My platform will be one based around sustainability, and minimizing risk for the public treasury.
If elected I would have four major focuses when working with the council: growing personal freedoms, growing small business, shrinking government spending and reducing poverty.
If given a mandate by the people of Sault Ste. Marie, I would do my best to steer the council according to the strategies outlined below.
Growing Personal Freedom:
- Sort the current BY-LAWs into four Categories: out of date, unnecessary, safety oriented, and necessary.
-Laws which fall into the first two categories should be repealed entirely.
-Laws which are safety oriented should receive further review, Laws deemed to be excessive by the administration should be brought to the community for input, and decisions will be made accordingly
-Retain laws deemed necessary
-Put mandatory review/expiration dates on all BY-LAWs in order to ensure good government into the future
-Remove all limitations upon agricultural self-sufficiency, beekeeping, gardening and prohibitions against small scale animal ownership such as chickens
Growing Small Business:
-Repeal Special licensing BY-LAWs (such as 2003-50) for establishments which pose no possible threat to the community
-Repeal bans on otherwise legitimate businesses inside city limits (Such as 2012-213 which bans exotic animal shows)
-Repeal mandated closures and hours of operation for businesses
-The Municipal monopoly of 'public works' including roads, transit and waste services should be ended.
A tax credit for all property owners in the amount the city previously spent (approximately $1000) should be created.
This would increase the quality of the roads in SSM by allowing business and home owners to decide when their road needs repair, instead of government bureaucrats.
-Zoning By-Laws should be reopened for public debate and input regularly
Shrinking Government Spending
-I Pledge if elected to work to cut municipal spending in approximately half within four years
-In addition to legalizing private alternatives to public works as described earlier, this should be done primarily by reducing discretionary spending, administration costs, municipal employee perks, and overhead (Like the page Facebook.com/awilliamsSSM on June 5th to find a document entitled "Municipal Financial Plan" which will detail the cuts to be made).
Reducing Poverty:
-I Pledge if elected as mayor to donate 60% of my salary, and also to attempt to partner with local charities and business to complete the project outlined below
-Create free Permaculture Community Food Forests around the City on Public Lands, which will help provide nutritious food and reduce dependence on food banks for the poorest of people.
-Lower property taxes across the board by 0.2%
I look forward to helping return Sault Ste. Marie to the status of central cog in the Canadian economy.
Thank you to everyone who has considered what I have to say.
Austin Williams, Mayoral Candidate Sault Ste. Marie.
*************************