Canadian astronaut and photographer Dr. Roberta Bondar doesn't mind doing some kind-of-crazy things in pursuit of wildlife photography.
That includes hanging out of helicopters to get her desired shot.
"It is not for the faint of heart," Bondar said, speaking at a Nov. 10 press conference, launching a photography exhibit of her work at Science North.
"Probably if I didn't have such a keen desire to communicate science in an intriguing way, and try to have art enfolded with it, I probably wouldn't have taken all those risks. But hey, when you get to be my age, you kind of want to have a few things to brag about. A lot of adventures, every image has a story."
The 77-year-old Bondar is best known as Canada's first female astronaut after her 1992 space shuttle flight, but she also has a passion for wildlife photography.
Sudburians are able to see her photography exhibit "Patterns & Parallels: The Great Imperative," free of charge in Science North's lobby during business hours until Jan. 7, 2024.
The exhibit combines images from land, air and space (thanks to a partnership with NASA) to tell the story of migratory patterns of the whooping crane, lesser flamingo and piping plover species, which are all threatened or at risk of extinction.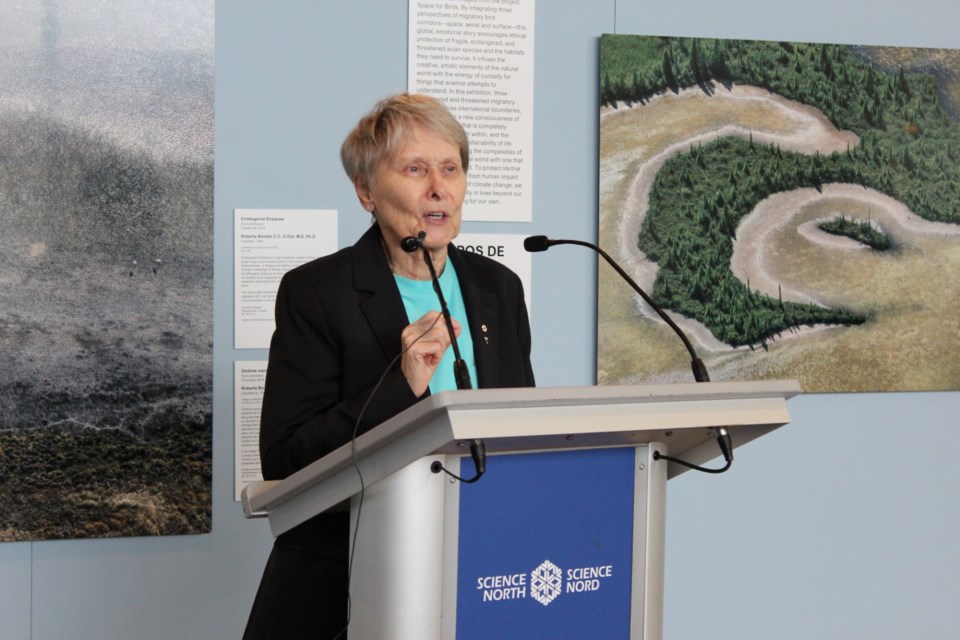 'It requires a lot of concentration'
Bondar expanded a bit more on the difficulty of taking photos from a helicopter when later questioned by Sudbury.com.
"It requires a lot of concentration, first of all, and a lot of trust between me and the pilot," he said. "Granted, I was a private pilot, but I never flew helicopters, but I do understand pitch, roll and bank and yaw and all the things that are technically required in order to line a helicopter up to get the best artistic image that I wanted.
"So with a helicopter moving all the time, and being buffeted around, we also don't want to scare birds. So we have to maintain a certain altitude. So any of the aerial shots are the most difficult ones to take."
Even photos taken from the ground can be difficult to accomplish.
"In some of the places in Africa it was 40-degrees centigrade, no air conditioning, we were there for days, nothing cold," she said. "It was a very, very hot environment to work in to try to get these images of lesser flamingo."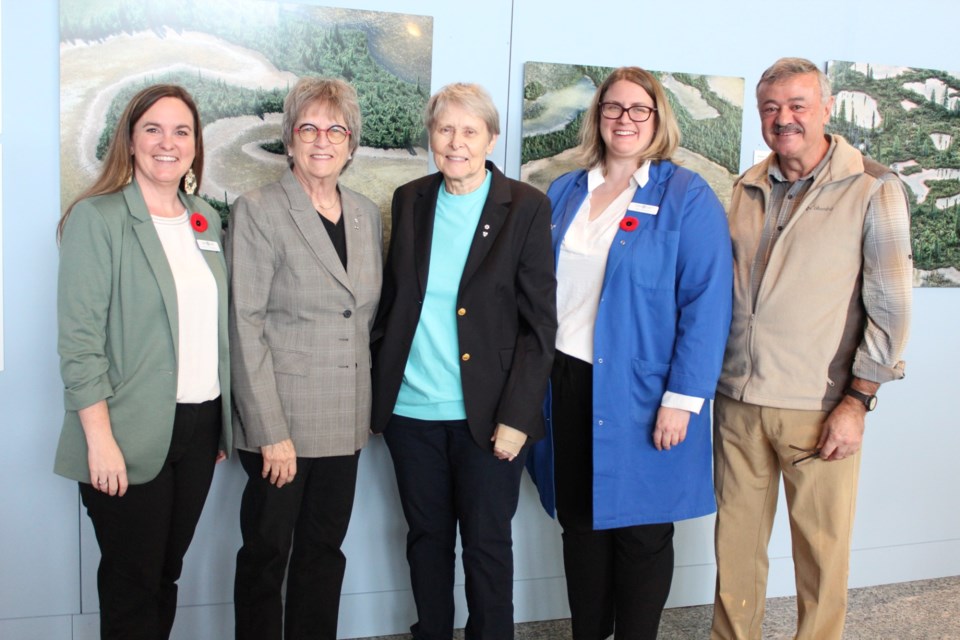 'Such a special exhibit'
Science North senior scientist Amy Henson fan-girled a bit in introducing Bondar at the press conference, saying meeting her was a "12-year-old girl's dream of mine," because she was just 12 when Bondar went to space.
"This is such a special exhibit, and one of the greatest things about it is this perfect merge between science and art," Henson told Sudbury.com.
"So everybody can appreciate beautiful imagery but the science story that Roberta is telling in this is impeccable — the story of several birds around our planet that are endangered species and the landscapes and the ecosystems that they live in. It's stunning photography and we're so excited to be able to host it here at Science North."
Prior to travelling to Science North, Patterns & Parallels was launched and exhibited in Sault Ste. Marie, Bondar's hometown. After its stay at Science North, it will then travel to other galleries, museums and science centres across Canada.
The exhibition features large, dramatic colour images taken by Bondar and selected NASA space images, as well as a video installation.
QR codes at the exhibition create an interactive learning experience, allowing visitors access to digital learning opportunities including animations, audio from Bondar, and additional videos taken in the field.
A staggering three billion birds have disappeared from Canada and the United States since 1970, said press materials. The exhibition is a key part of the Roberta Bondar Foundation's Space For Birds project, which uses photography as a tool to understand the biodiversity of nature and the impact of human actions and climate change on bird migration and habitat loss.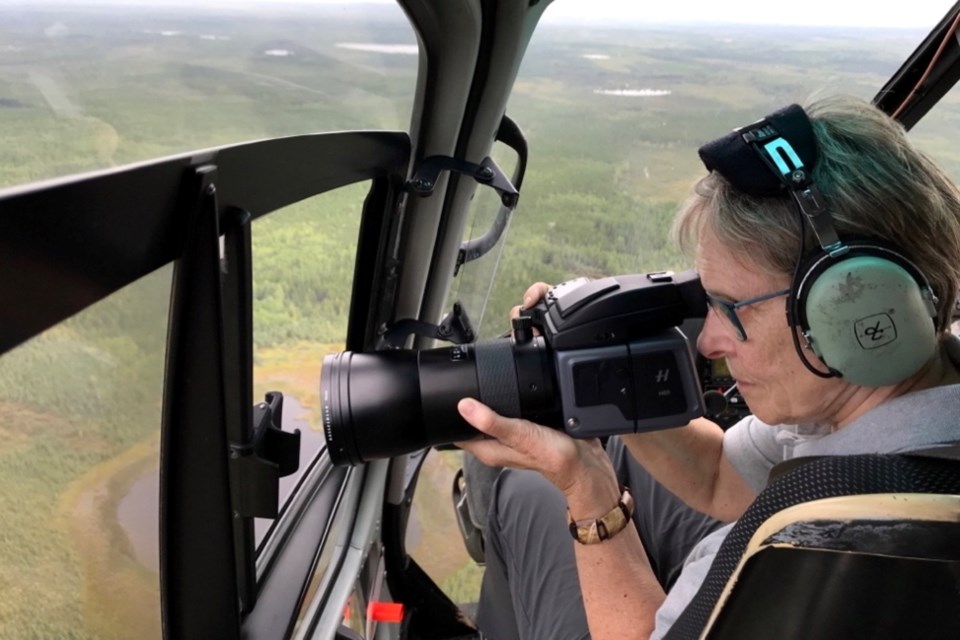 Exhibit took 10 years to accomplish
"Now, many of you, in your lifetime may never see the piping plover, but it is the one that you might be able to see around the Great Lakes," Bondar told those at the Science North press conference.
"There are only 200 of these birds left in the population by the Great Lakes. There's another population in the Prairies and one in the East Coast. So it's wonderful to be able to photograph these very, very rare species."
She said the exhibit took her 10 years to be able to accomplish, and brought her not only to the United States and Canada, but the African countries Tanzania and Kenya. Bondar said she was on her way to Namibia to take photos when COVID-19 hit and she had to come home.
Bondar said she uses a lot of large (and very expensive) digital camera lenses to capture photos.
"I use the highest optical lenses that I can get, and basically the highest resolution sensors," she said. "So from the helicopter, I've been using Hasselblad all digital, and on the ground, Nikon. I've now switched to completely mirrorless cameras on Nikon."
Asked about her bird bucket list, Bondar said she is working on photographing a couple other endangered birds.
"One is called the red knot, and it is a fascinating bird," she said. "It's gray-colored in the winter down in the southern parts of the States and into Central America. And then it flies up through Delaware, changes its feathers to bright red," and eventually migrates up to the Arctic.
"And that's where it nests, as a lot of migratory birds do, because there are fewer predators," Bondar said.
'Our generation hasn't done very well'
Sudbury biologist and Science North "bluecoat emeritus" Franco Mariotti said when he was a young teen and a "wanna-be biologist," he sent away for a book on endangered species.
There were several thousand species listed in that book, but a United Nations report three years ago "stated that one million species face extinction," Mariotti said. "Our generation hasn't done very well to make a better world for this generation."
He said Bondar's photography work is important because she passionately articulates "how important and exciting these other living things are.
"Sometimes in the process, she will create wonder and awe about this planet, and that is what fuels restoration," Mariotti said.
Heidi Ulrichsen is Sudbury.com's assistant editor. She also covers education and the arts scene.