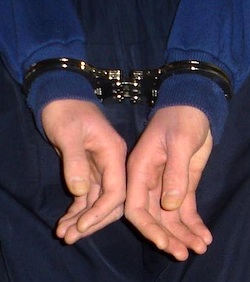 NEWS RELEASE
SAULT STE MARIE
POLICE SERVICE
*************************
On the 19th of March, 2014, shortly before 10:30 a.m., officers from Investigation Services arrested 30-year-old William Jerome McDonald of no fixed address in relation to the early morning robbery on March 17 at the Canadian Motor Hotel (formerly known as the Knights Inn).
At the time of the offence the accused on was a probation order with conditions to keep the peace and be of good behavior.
Mr. McDonald has been charged with one count of robbery, one count of weapons dangerous, one count of pointing a firearm, one count of use firearm or imitation during the commission of an offence and one count of breach of probation.
The accused will appear in bail court on March 20.
*************************
Original release - March 17
On the 17th of March at approximately 3:20 a.m., city police received a 911 call regarding a robbery at the Canadian Motor Hotel on Pim Street.
A lone male entered the business and threatened the female clerk with a gun.
A small undisclosed amount of money was taken.
The male fled on foot. The clerk was not physically harmed.
Officers from Patrol Services and the K-9 Unit attended in the area and attempted to locate the suspect.
The male is described as being in his late twenties or early thirties.
He had dark brown hair, was skinny and was wearing a medium blue jacket with black stripes.
The investigation is continuing.
*************************