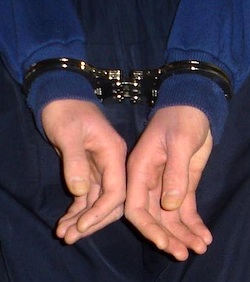 7:04 p.m. update
Sault Ste. Marie Police Service sent the following media release on this story.
Shortly before 12:45 p.m. today a male attended at an east end address and threatened another male.
The suspect left the area.
The victim then attended and spoke to a neighbour outside about the male threatening him.
The male suspect re attended in the area and threatened the neighbour as well as the first victim.
The suspect yielded a baseball bat.
The second male victim was assaulted but not harmed.
A female who was with the suspect also threatened the two males.
The two suspects then fled the area in a vehicle.
The male lost control of the vehicle and both parties fled on foot.
The K-9 unit and ESU officers attended in the area and began a track of the suspects.
Upon arrest the male was found to be in possession of cocaine.
Due to the time of day and a weapon involved a
code green
was activated in the school system.
A code green ensures students do not leave the school due to a potential threat outside of the school.
As a result of the track the adult female and male were taken into custody.
The investigation is still ongoing and further information will be released in the morning.
*************************
Original story: 5:02 p.m.
Students and staff at Parkland Public School responded to a code green lockdown Thursday afternoon.

According to a letter sent home to students, city police called the school at 1:34 p.m. to inform them that there was an armed individual in the area.

Students were at recess outside at the time of the code green, three bell rings alerted staff and the children were brought inside immediately as the school was put on lockdown.

Fran Walsh, communications officer for the Algoma District School Board was pleased by the reaction by school staff to the incident.

"Each school in the district is required to do two practice drills each year," said Walsh. "We're pleased that the principals followed the procedures and staff were prepared because of the practice drills".

Parkland principal Frank Palumbo confirmed that their last code red lockdown drill was conducted November 18, with a second drill scheduled in the near future.

Staff Sgt. Hruska of the Sault Ste. Marie Police Service noted that the incident was not directly related to the school, but they were notified as a precautionary measure.

Curtains were drawn and students remained in their classrooms until the police called an all clear at 1:51 p.m., Hruska confirmed to SooToday.com that the individual was now in custody.
*************************
If you have any information regarding these crimes, or any other crime, call Crime Stoppers at 705-942-7867 or 1-800-222-8477 (TIPS)
Text STOP to 274637 to cancel. Text HELP to 274637 for help.
**************************
To read more city police news, please click
here