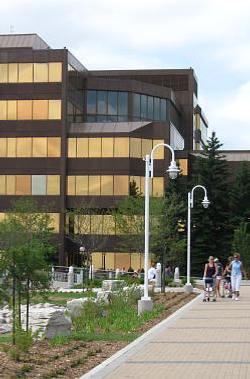 Joe Fratesi, Sault Ste. Marie's chief administrative officer (CAO), says the city will "absolutely" be filing applications for provincial government funding to help with local infrastructure construction and repairs.
The provincial government announced Monday at the Association of Municipalities Ontario (AMO) Annual Conference 2014 in London, Ontario that the new Ontario Community Infrastructure Fund will provide $100 million per year in funding to small, rural and northern municipalities, such as the Sault, for critical road, bridge, water and wastewater projects.
"Money was available to municipalities for the last two years, but it wasn't a permanent source of funding before now…we were very fortunate to receive $2 million in funding for the road improvements we're doing on Second Line from west of Strathclair Park to Pine Street," Fratesi told SooToday.com Tuesday.
Half of the funding from the new Ontario Community Infrastructure Fund "will be allocated annually using a fair and transparent formula, which recognizes that municipalities have different infrastructure and fiscal needs," the province stated in a media release.
The remaining $50 million will go to communities through an application-based process.
"Take Second Line for example, there's one more leg of it that needs to be done to bring it to Black Road, and we'll put applications in for the portion that is application-based," Fratesi said.
"We certainly do have municipal road, water, wastewater management and asset management projects to apply for."
It was also announced Monday that Ontario municipalities can now propose infrastructure projects to be considered for support through the Small Communities Fund.
With this fund, the province and the federal government will each provide $272 million to support projects in municipalities with populations less than 100,000.
"Absolutely Sault Ste. Marie will qualify," Fratesi said in reaction to that new fund.
"There are a number of things that come to mind…(funding is needed in Sault Ste. Marie for) public transit, drinking water, wastewater management, solid waste management, green energy innovation, brownfield redevelopment, disaster mitigation, short line rail, short sea shipping, and we have no end of local roads and connecting links that are of provincial and federal importance."
Money from the fund, Fratesi said, could go towards saving the Sault to Hearst passenger rail line, development of a deep water port and disaster mitigation.
"I've sent emails to all the city departments asking them to read the information released by the government and provide the projects that might be considered."
"We'll present those to council and try to maximize the benefits to our community in regards to these two funding announcements," Fratesi said.
Ontario plans to invest more than $130 billion in public infrastructure over the next 10 years.
The province says it is "now accepting expressions of interest for the application-based component of the Ontario Community Infrastructure Fund and the Small Communities Fund."
Grants to successful applications are expected to be awarded in early 2015.
Premier Kathleen Wynne announced the new Ontario Community Infrastructure Fund and the Small Communities Fund Monday in St. Thomas, near London.
Wynne and 15 Ontario cabinet ministers have been on hand at the AMO conference, which began Sunday and wraps up Wednesday, to address questions and concerns from municipal leaders in attendance, including Sault mayor Debbie Amaroso, who are concerned about the fiscal impact that provincial government decisions are currently having on municipal budgets.