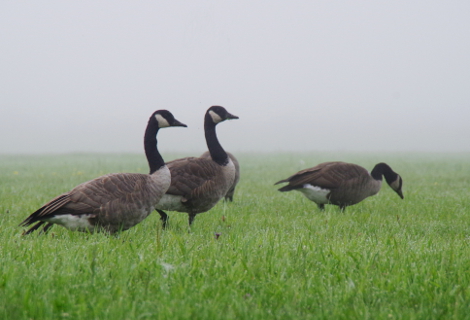 WEATHER STATEMENT
ENVIRONMENT CANADA
*************************
9:43 a.m. EDT Friday, August 22, 2014
Fog Advisory in effect for:
Sault Ste. Marie - St. Joseph Island
Near zero visiblity in fog is expected or occurring over some areas.

The fog is expected to dissipate later this morning.
Visibility may be significantly and suddenly reduced to near zero. If travelling, be prepared for areas of near zero visibility.

Weather Advisories for fog are issued when near zero visibilities in fog are expected or occurring.

Environment Canada meteorologists will update alerts as required, so stay tuned to your local media or Weatheradio.
Email reports of severe weather to storm.ontario@ec.gc.ca or tweet with the hashtag #ONStorm.
*************************
(PHOTO: Canada geese graze next to the John Rowswell Hub Trail at the corner of Third Line and Great Northern Road this morning. SooToday/Michael Purvis)