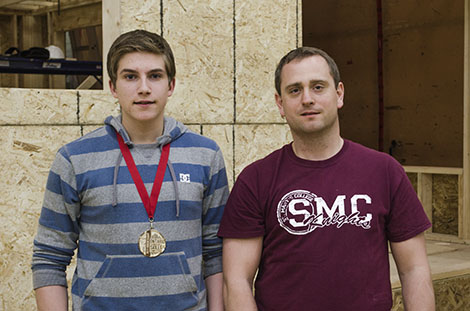 On May 5-7, students from all across Ontario competed in the annual Ontario Technological Skills Competition, Canada's largest skilled trades competition.

Jacob Nenonen from St Mary's College received gold in the Carpentry - Individual section, moving on to compete in the National Skills Competition in Toronto this June.

"It feels really good," says Jacob.

"I had a really good teacher. Mr. Pierman taught me well. Going down, putting all the work into it, and then going out successfully. That's the prize right there, just being successful." says Jacob.

This marks the first time that St. Mary's College has entered this competition.

"It brings us great pride and joy to recognize the fact that one of our students accomplished a gold medal in such a short time frame," says Larry Pezzutto, principal at St. Mary's College. "To send someone down from St. Mary's College hoping that we would do fairly well and come out with a gold medal is a huge opportunity."

Training is underway for the national level competition and Craig Pierman, Jacob's teacher has preparations underway for avoiding some of the common mistakes, brushing up on skills, preparing for any surprises, and coming out on top.

The Ontario Technological Skills Competition took place at RIM waterpark in Waterloo this year, and saw over 1,900 students attending.

Students selected will move to the national level competition.

The next step for winners of the national level competition is to move on to WorldSkills Competition, taking place in Brazil in 2015.

For more information about the Ontario Technological Skills Competition, check out their website.