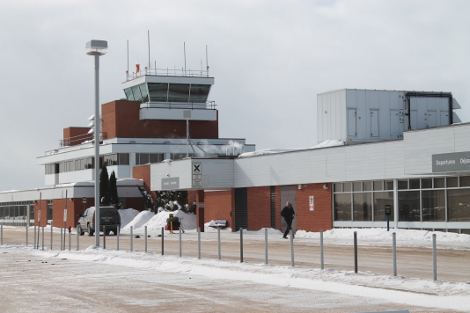 The Sault Ste. Marie airport terminal was buzzing with activity, and even as airline passengers were arriving and others readying for departure, Sault MPP David Orazietti was on hand to announce $1 million in provincial government funding for the facility's expansion.
The Sault Ste. Marie Airport Development Corporation (SSMADC) will receive the funding to add four new airline counters, create office space for an additional airline carrier and expand the passenger screening hold room.
"Food service will be offered beyond the screening point…that's going to be something fairly new for a regional size airport," said Terry Bos, SSMADC CEO.
"We're hoping to be able to seat about 250 people (in the expanded passenger screening hold room)."
SSMADC will invest $1 million of its own towards the expansion.
All of which, officials hope, will lead to another airline setting up an office at the Sault airport, bringing more jobs, more choice and more competitive air fares for passengers.
"This new expansion will open up the possibility of an additional airline carrier (for the Sault airport) meaning more business flowing through Sault Ste. Marie," Orazietti said.
"We're expanding to include sun destination flights, other carriers that basically could be attracted to the city…yes, there's an opportunity for new airlines to come, and that's why we need this space," said Jerry Dolcetti, SSMADC board chair.
"We are confident that kind of discussion will continue, but we're not naming a particular airline at this stage," Dolcetti said.
"There's no announcement imminent…we're not going to name the one we're closest to right now but definitely we've reached out to a lot of major airlines," Bos said.
"We've got packages out to Allegiant, Delta. WestJet, anybody who would be interested in coming here, we have the capacity…when Porter came here it created a lot of competition, so if we can continue to create competition hopefully passengers numbers will come up. There 's still room for fares to go down," Bos said.
Enthusiasm was expressed about the growth of the airport in terms of passengers flying in and out since the SSMADC began administering the facility in 1998.
"We started off with about 120,000 (passengers a year), this year we'll have at least 200,000 going through this particular building and that 's a pretty exceptional expansion program for us, given the size of our trade area," Dolcetti said.
"As of the end of January the airport carried 196,016 passengers (since February 2014 inclusive)," Bos said.
"That figure is the highest we've ever seen, in the history of our ownership of the airport since 1998."
"We've spent over $28.5 million on capital upgrades (since 1998), this year we'll be spending, along with the $1 million from the NOHFC and the $1 million we'll be putting into this terminal expansion, over $3.3 million on capital upgrades to our airport," Bos said.
Construction of the expanded area will begin, hopefully, in May or June and be completed by October or November, Bos said.
"The Sault Ste. Marie airport is a crucial part of our city's economy, it connects us to other economic hubs and allows the free flow of business, commerce and tourism through our great city," Orazietti said.
The provincial funding came from the Northern Ontario Heritage Fund Corporation (NOHFC).
"There is immense competition for funding from the provincial government," Orazietti said, thanking Ella Jean Richter, a member of the NOHFC board on hand for Monday's funding announcement, for playing a part in approving the Sault airport funding application.
Orazietti left the terminal shortly after the funding announcement.
The Sault MPP had to catch a plane to Toronto.
*************************
Government Investment Will Expand Terminal and Create Jobs
Ontario is providing the Sault Ste. Marie Airport Development Corporation (SSMADC) with $1 million in funding for the next phase of the airport expansion, announced David Orazietti MPP today.
"The airport plays a crucial part in our city's economy and this new expansion will create the opportunity for an additional airline carrier and more business to flow through Sault Ste. Marie," said Orazietti. "This funding represents our government's commitment to strengthening our city and ensuring we have the modern infrastructure we need to continue to grow and develop."
The SSMADC will be receiving the funding through the Northern Ontario Heritage Fund Corporation (NOHFC) to accommodate further expansion work at the airport.
The project will expand and realign the terminal area to make room for additional airline services, passenger amenities and more office space for carriers, both domestically and internationally.
This funding will allow the airport to enter a new phase of expansion by increasing space for passengers, adding four new airline counters and creating office space for a new airline carrier.
In addition to the jobs created by the expansion, the project is expected to create an additional 6 full-time employment opportunities at the airport once completed.
"The Sault Ste. Marie Airport Development Corporation is very grateful to the NOHFC for providing funding for this much needed expansion of the Sault Ste. Marie Airport terminal," said Terry Bos, CEO of the SSMADC.
"The recently completed business and land use master plan identified the passenger screening hold room as one of the major deficiencies at the airport. This expansion will meet the need for increased passenger space, improve the screening area and also increase amenities like additional washrooms, food and drink stations, and additional ticket counter space. Without the funding assistance from NOHFC such improvements could not be possible."
The current airport facility already services four airline companies: three domestic airlines (Bearskin Airlines, Air Canada Express and Porter Airlines) and one international airline (Sunwing Airlines).
QUICK FACTS
Since 2003, the NOHFC has invested $980 million in more than 6,450 projects in Northern Ontario, creating or sustaining nearly 24,650 jobs.
In Sault Ste. Marie, the NOHFC has invested $90 million in 781 projects, creating or sustaining more than 2,759 jobs, since 2003.
The NOHFC's investments in economic development are an important part of the Ontario government's Growth Plan for Northern Ontario. A strong northern economy will give the people of Ontario more opportunities for jobs and economic prosperity.
Some of the key NOHFC investments in Sault Ste. Marie since 2003 include:
· $5 million Agawa Canyon Tour Train
$3.4 million for the Sault Ste. Marie Airport Development Corporation
$2.5 million Heliene Solar Manufacturing Plant
$2.3 million for Algoma University Biosciences and Technology Building ($10.3 million total provincial investment)
$2.1 million Flakeboard Ltd. Expansion
$2 million Sault College - IT Infrastructure, Multi-Media Centre, Wind Energy Training Centre
$1.6 million Hub Trail & Waterfront Walkway Expansion ($3.1 million total provincial investment)
$1.5 million Northern Community Centre ($6.2 million total provincial investment)
$1.5 million for Sault College Academic Building ($9.5 million total provincial investment)
$1.5 million Huron Central Rail upgrades ($16.5 million total provincial investment)
$1 million SSM Innovation Centre and Canadian Bank Note for e-gaming initiative
$1 million Triple M Metal
$1 million Heritage Discovery Centre
$1 million Essar Centre ($4.7 million total provincial investment)
$1 million Algoma Public Health building – Technology ($9.3 million total provincial investment)
$1 million City - Emergency Response Centre (EMS) ($2.2 million total provincial investment)
$1 million SIS Manufacturing to upgrade equipment and infrastructure
$785,500 Palmer Construction Group Inc.
$738,200 for Rector Machine Works infrastructure and equipment upgrades
$550,000 Group Health Centre office expansion
$475,000 Soo Foundry & Machine equipment upgrade
$202,750 China Steel equipment upgrades
LEARN MORE
Sault Ste. Marie Airport Development Corporation
*************************
(PHOTO: The Sault Ste. Marie Airport terminal is pictured. Darren Taylor/SooToday)