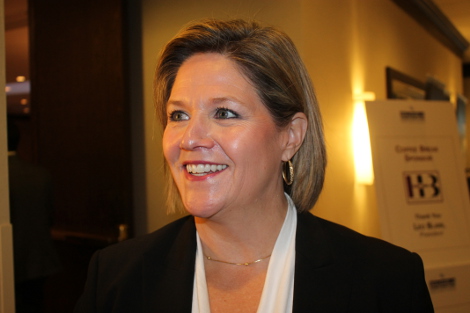 NDP leader Andrea Horwath (pictured) took questions from reporters from Ontario's various regions by teleconference Thursday afternoon as the provincial New Democrats unveiled their official party platform leading up to the June 12 provincial election.
Highlights of the NDP platform of special interest to Sault Ste. Marie and northern Ontario include proposed widening of 60 kilometres of highways every year, 30 kilometres of that amount in northern Ontario.
Horwath said she did not have details in regards to which highways would get widened first, but when asked by SooToday.com if she would, if elected premier, commit to widening Highway 17 between the Sault and Sudbury, Horwath said: "This is one of the projects we're certainly looking at and we're prepared to make that commitment as we go forward… there's plenty of opportunity to coordinate widening of Highway 17."
"We know those (Northern) highways are literally a lifeline," Horwath said.
Other items of interest for northern Ontario in the NDP platform released Thursday include improvement of winter road maintenance by adding 200 more sand trucks and snow plows, cutting of ER wait times in half and physician recruitment, investing in Ring of Fire infrastructure and promoting revenue sharing with First Nations, giving tax credits to small businesses and manufacturers that create jobs, taking the HST off hydro and addressing price increases experienced by natural gas consumers.
"We're going to cut ER wait times in half because too many people are lingering in emergency wards for 10, 12 or 14 hours, that's not acceptable," Horwath said in regards to healthcare.
"With some investments we will bring more nurse practitioners into the ER to cut wait times, and cut the wait list for homecare that families are facing right now."
24-hour family clinics would be established too.
The NDP's platform also calls for reduction of auto insurance rates by 15 percent.
The platform also calls for keeping schools open, to be used for after school programs on evenings and weekends.
The NDP platform says $2 billion of taxpayer money would be saved through the creation of a Ministry of Savings and Accountability and the appointment of a financial accountability officer.
"We've made a very serious commitment to the fundamental issue, which is making sure we are respecting peoples tax dollars in a way that gets our deficit dealt with by 2017-2018," Horwath said.
"A big part of that will be the financial accountability office."
"We've undertaken some very specific initiatives that come from what I've heard from Ontarians over the last number of years, I've made commitments today to deliver for them on the priorities that they've outlined," Horwath said.