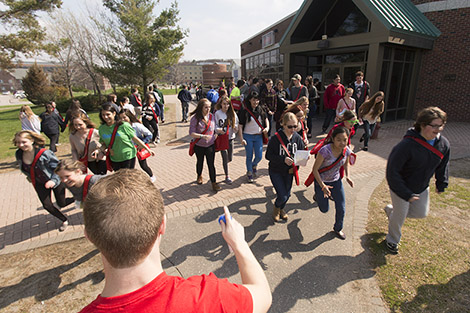 Local grade 11 students participated in The Amazing Race Algoma at Algoma University over the last two days,
The event was intended as a fun way for Grade 11 students to tour the campus, said recruitment officer Donny McGrath.
McGrath is a recent graduate of the university's business administration program and said he believes that the small class sizes helped him succeed.
"I got to know some people from the business department as a student just chatting with professors to see whta they had to offer. It just seemed like a really professional program that offered solid practical skills," said McGrath.
Students were given a map with checkpoints that they had to attend to complete challenges.
Once completed they received a stamp on their provided passport.
Over 50 students participated in the race Wednesday, with over 130 participants on Tuesday's tour.
Prizes were awarded for the top teams who completed the race and everyone's name went into a draw for a $1000 scholarship for the 2015 school year.
"This gets them thinking about Algoma University in Grade 11 and they have a better understanding of the campus. That way when they get to Grade 12 it helps them make a decision which universtiy or college they want to attend," said McGrath.