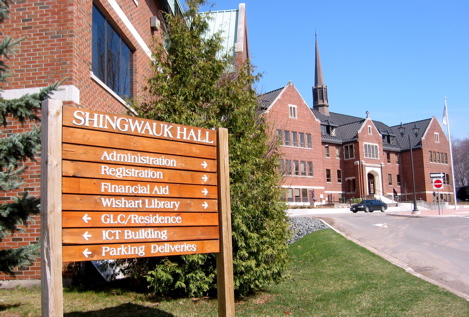 NEWS RELEASE
ALGOMA UNIVERSITY
*************************
Algoma U endorses Sault Ste. Marie city council's racial harmony resolution
SAULT STE. MARIE - The Algoma University board of governors has endorsed the City of Sault Ste. Marie's racial harmony resolution.
The resolution is a product of work by the racial harmony sub-committee of the Local Immigration Partnership, and the Algoma U endorsement follows the adoption of the resolution by the City on March 25, 2013.

Algoma University president Dr. Richard Myers was happy to adopt this resolution.
"Algoma University has a special mission to engage in cross-cultural learning, and this resolution, being endorsed by organizations across Sault Ste. Marie, sends a clear message of welcome to those who might choose to move to Sault Ste. Marie," he said. "This includes the hundreds of students from abroad who choose to study at Algoma University each year."
With International students comprising close to 20 percent of student enrollment, Algoma University strives to provide a safe, discriminate-free, tolerable environment for all students, staff, faculty and guests.

The motion passed by the board of governors executive committee states that Algoma University affirms and supports:
• The principles of the United Nations Universal Declaration of Human Rights
• That racial discrimination or intolerance against any person in our community is not condoned and is intolerable
• The intent and meaning of the City of Sault Ste. Marie's cultural diversity proclamation
• The value of the diverse cultures and peoples who make up our population
In support of both the City of Sault Ste. Marie and the Local Immigration Partnership (LIP), the University agrees to promote key messages of the Racial Harmony Resolution, and to continue to be involved in cultural events on campus and within the community.
About Algoma University
Algoma University offers a wide variety of liberal arts and sciences degree options including programs in psychology, computer science, business administration, fine arts, community economic & social development, and biology in Sault Ste. Marie, Brampton, Timmins and St. Thomas.
As a partner with Shingwauk Kinoomaage Gamig, Algoma U is committed to respecting Anishinaabe knowledge and culture.
Algoma University has launched its Essential Elements Campaign to expand its campus and offer more scholarships and awards to students.
To learn more, visit here.
*************************