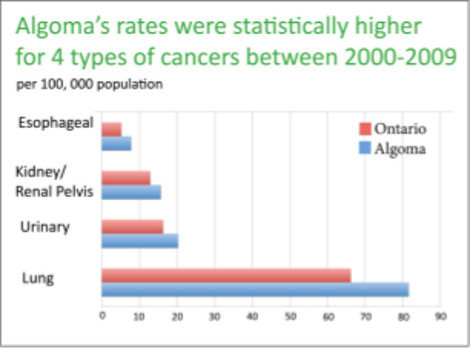 As reported earlier by SooToday.com, Algoma Public Health released a preview Wednesday of the report it expects to release later this year, a report which shows Algoma has a higher incidence of cancer than the rest of Ontario.
It will be the first such district-wide cancer report done by APH in 10 years.
Among its details, the report shows Algoma's overall cancer rate between 2000 and 2009 included 533 incidences per 100,000 people.
That's above the provincial rate of 513 per 100,000.
It's also an increase over the report prepared by APH for the period 1984-1998, in which there were 414 new cases of cancer per 100,000 people (compared to the provincial rate of 392).
The new APH report shows there were 7,499 newly diagnosed cases of cancer in Algoma in people aged 15-75 from 2000 to 2009.
That's an average of 750 new cases each year.
Notwithstanding earlier cancer detection (thanks to modern-day technology provided by MRIs and other tools), the mortality rate due to cancer in Algoma is higher than the provincial average.
From 2000 to 2009, there were 234 deaths per 100,000 people reported in Algoma, compared to the provincial figure of 207 deaths per 100,000.
"We're obviously disappointed because it means there's more work that needs to be done," said Dr. Kim Barker, medical officer of health at Algoma Public Health (APH), speaking to SooToday.com Wednesday.
Barker said tobacco and alcohol, of course, are major cancer-causing factors, but added "we're now seeing over the last few years things such as radon in our basements, and also not enough consumption of fruits and vegetables, and physical inactivity. We're beginning to notice the correlation between the incidence of cancer and physical inactivity."
To what extent is industrial pollution a cancer-causing factor in our area?
"That's a really good question, and in fact that's one of the reasons for the delay in releasing our (full and official) report, is that we're still working with the Ministry of the Environment, together with Public Health Ontario in Toronto, to have a closer look at the air quality sampling (in our area)," Barker said.
What of the food chain?
Are there more cancer-causing chemicals in the food we purchase at the supermarket than our immune systems can handle?
"I would say it depends where you're purchasing your food from. It becomes more of an issue when people are growing vegetables in their own gardens and perhaps the soil is contaminated with a particular chemical," Barker said.
"Certainly in the past, when we used to do a lot of drying and salting of our meats, and then cooking them to a full well-done state, it was shown to have heavier levels of nitrate which are also consistent with the causing of cancer, but I would suggest it's the lack of fruits and vegetables in the diets of some people that's contributing to the incidence of cancer (in terms of a connection between one's diet and cancer)," Barker said.
To return to the main cancer risk, Barker said there is a higher number of smokers in Algoma than in other areas of the province.
"We absolutely do have an issue (with tobacco use in Algoma). So this is a priority area for us, to help people stop smoking or prevent them from ever taking up the habit."
Barker said Algoma Public Health has a "very comprehensive" smoking cessation program and emphasized that APH would be willing to assist smokers quit the habit.
Barker said she could not answer why the smoking rate is higher in Algoma.
"It's an excellent question. It's one we need to research more effectively so that we can identify what the risk factors are that allow people to be more susceptible to picking up the habit."
"We need to come together as a community to better look at all the factors (which lead to the high mortality rate linked to cancer in Algoma), and part of that could be the possibility that people may be presenting (consulting a doctor) at a later stage in their cancer, or people deciding accessing treatment is too complex living in the north, it could be a number of different things," Barker said, repeating the need for people to quit smoking to cut down on incidences of lung cancer.
In the study, lung cancer ranked third, behind prostate cancer and breast cancer, as the most common cancer in Algoma.
Barker said she is not certain of the official release date of the full APH report, stating the need to verify findings and figures with groups such as Cancer Care Ontario.
*************************
Previous SooToday coverage of this story:
Algoma lung cancer rates higher than province: APH