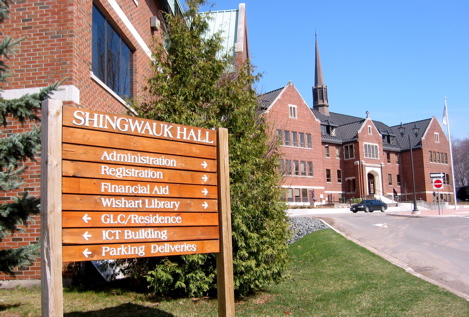 Algoma University is officially a part of Ontario University Athletics.
The school, in conjunction with OUA officials, made the announcement on Thursday morning in a joint release.
Algoma athletics will begin competition in OUA sports beginning in the 2013-14 season in five sports – men's and women's basketball, curling, cross-country, nordic skiing and wrestling. The school will also feature soccer the following year.
"We were very careful and systematic about thinking through how to move forward on this," said AUC President Dr. Richard Myers. "We did a pretty good analysis of where we might enter teams. We looked at factors like which sports are of interest to our students and which sports are of interest to people in Sault Ste. Marie. You want to be engaged in sports that will attract fan interest."
Myers added that facilities and local talent in the sports also played a role in deciding which sports the school would enter as an OUA member.
Making the move to OUA athletics also adds to the reputation of the university around the province when recruiting players for the future.
"It's important for us to be able to convey to the public that we're a university just like Western, Queens, Trent, Brock and all of the others," said Myers.
As part of the move, Algoma's George Leach Centre, which is the home of AUC's varsity basketball teams, will receive a bit of a makeover. The facility will see an addition of dedicated locker rooms for home and visiting teams as well as an officials room. In all, four dedicated locker rooms will be added.
The school will also add portable bleachers which will allow the seating capacity to be in the range of 1,000 spectators.
Athletics Director Mark Kontulainen also said other work could be done on the facility down the road, which would include updated weight and cardio rooms. The latest the new locker rooms would be in place is next summer, prior to Algoma's first OUA season though Kontulainen did say that the sooner the locker rooms were in place, the better.
Coaches are also in place for all sports and have been in place for some time.
Bob Lewis, who has coached mixed curling at Algoma since 2008, will head up the Women's Curling team while the men's curling coach will be Ross Boston, who has coached curling at Algoma since 2003.
Helen Lindfors, who coached the Soo Finnish Nordic Cross Country Ski team for 14 years will coach the Nordic Skiing team while Trevor Manchester will coach wrestling. Manchester is a two-time OUA wrestling champion (2003, 2005). Cameron Wilson will coach Cross Country Running.
In soccer, Bill Howe, co-founder of the Civics program locally, will coach the Women's team while Neil Ovey will coach the Men's team.
Coaching basketball will be a pair of familiar faces as Thomas Cory and Ryan Vetrie will remain in their current posts; Cory as the Men's Basketball coach and Vetrie as the Women's coach.
Following is a full release from Algoma University.

****************************
Thunderbirds to join Ontario University Athletics in 2013

Algoma University bid accepted in member vote

SAULT STE. MARIE - Eleven years after the Algoma University Thunderbirds created their Varsity Athletics program, and four years after becoming an independent degree-granting institution, Algoma University has been accepted by Ontario University Athletics (OUA), to begin competition in the 2013-2014 school year.

Dr. Richard Myers, the University's president, says: "Varsity athletics is a key element of student life and a critical link between any university and its home community. Our student athletes will be thrilled to bring the highest level of provincial sport to the people of Sault Ste. Marie and to the members of the Algoma community."

In addition to basketball, soccer, and curling, the three already existing Varsity sports at Algoma, the University is adding cross country running, nordic skiing, and wrestling programs for both men and women.

Coaches have been hired and will be announced over the coming weeks.

Algoma University has a proud sporting tradition, led by the institution's first Athletic Director, George Leach.

The campus Fitness and Recreation Centre that bears his name was built in 1992, and since that time the University has hosted several Provincial-level events.

The Thunderbirds joined the Ontario Colleges Athletic Association (OCAA) in 2001, and since that time have won multiple medals in both basketball and curling.

The University hosted the 2011 OCAA Basketball Championships here in Sault Ste. Marie in 2011, and has co-hosted Curling Championships as well as the OCAA Annual General Meeting.

"Algoma University has an impressive track record of providing quality varsity athletics programs that align with the vision and ideals of the OUA," said OUA Executive Director Ward Dilse. "We welcome Algoma University to our membership, and are excited to count the Thunderbirds as our latest league member."

Members of the OUA were in Sault Ste. Marie for a site visit in April, before putting forward the motion to have Algoma U join the organization at their Annual General Meeting in May.

"Competing in the OUA will be a terrific experience for our Student-Athletes and Coaches," said Mark Kontulainen, athletic director at AU. "Playing at the premier level of university sport in Ontario will be a tremendous opportunity for them to grow and excel. Both our new and existing programs have been busy preparing for their inaugural seasons in the OUA, and I have been impressed with their motivation to assemble competitive teams. Our staff, faculty, students, and the greater community look forward to seeing our teams compete at this level."

About Algoma University

Algoma University offers a wide variety of liberal arts and sciences degree options including programs in Psychology, Computer Science, Business Administration, Fine Arts, Community Economic and Social Development, and Biology in Sault Ste. Marie, Brampton, Timmins and St. Thomas.

As a partner with Shingwauk Kinoomaage Gamig, Algoma U is committed to respecting Anishinaabe knowledge and culture.

Algoma University has launched its Essential Elements Campaign to expand its campus and offer more scholarships and awards to students.

To learn more, visit www.algomau.ca.

****************************