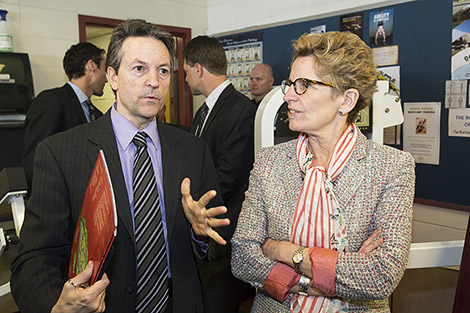 Photo by Kenneth Armstrong, courtesy of Algoma University
Algoma University's George Leach Centre will expand.
$2 million in funding for the expansion, from the Ontario government's Northern Ontario Heritage Fund Corporation (NOHFC), was announced Monday by Sault Ste. Marie MPP David Orazietti during a visit to the Sault by Ontario Premier Kathleen Wynne.
The funding will allow the George Leach Centre (GLC) to expand by 10,000 square feet and create five new jobs.
"It'll be a huge improvement," Algoma University President Dr. Richard Myers (pictured with Premier Wynne) told SooToday.com.
Speaking to an audience gathered at the Centre for Monday's funding announcement, Myers said: "When the George Leach Centre was built we had a much smaller student population and no varsity programs…we've evolved to a point where the existing infrastructure is no longer adequate for current use."
"As early as 2009 our institutional plan indicated there was a need to improve our facilities here at the Leach and the very generous financial support announced today will help us realize our dream…for that we're very grateful."
Myers told us: "The plan is to add two sets of locker rooms, which is a requirement from Ontario University Athletics to be in the OUA."
"We'll locate them in what is now currently the weight room and the old squash courts, and there will be a second storey addition on the front end of the building which will now be a larger, greatly enhanced exercise centre where all the cardio machines and weights will be, with nice windows overlooking the campus to the west."
Pointing to the GLC's gymnasium area, Myers said: "Currently we have some of the cardio machines tucked in corners, but now they'll be up on the second storey in a new exercise room which will be large, spacious and very comfortable."
As for the new locker rooms, Myers told Monday's audience: "Because we have only two relatively small locker rooms, we often have to inform our students and our own varsity teams they can't use the locker rooms because we have to turn them over to the visiting teams from other universities, so if they want to use our facilities they have to change at home."
Along with the new locker rooms, Myers told us, will be rooms for coaches, trainers, and referees, which are requirements for any university competing in OUA-level sports.
Myers told Monday's audience: "This is most welcome news as the GLC is a key part of the Algoma University campus and plays a critical role in recreation, health and wellness, and our varsity sports and the sense of community and pride that they help to build."
Algoma University students, staff and faculty were present at Monday's announcement at the GLC, along with members of various groups that enjoy the Centre's facilities.
The GLC opened in 1992 for use by Algoma University students, with memberships available to the general public.
As well as serving as the home for Algoma's basketball teams, its main gymnasium area has three regulation size courts which can be used for tennis, volleyball and badminton, and is surrounded by an indoor track for walking or jogging.
There are also squash courts, an aerobics room which can be used for many programs, such as martial arts, dance and yoga, a weight and cardio room, change rooms with saunas as well as a meeting room.
Fitness testing is also available.