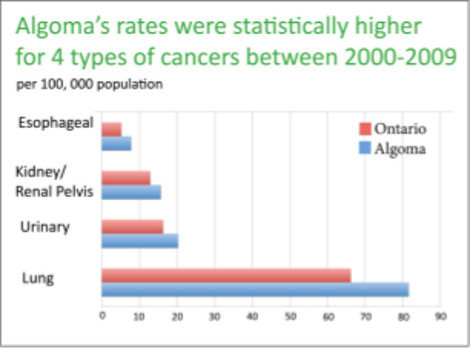 A report expected to be released this year shows people in Algoma have a higher incidence rate of cancer than the rest of the province, said Algoma Public Health.
APH put out a preview of the report today, stating that it plans to release its first district-wide cancer report in 10 years later this summer.
Among the details released today were that there were 7,499 newly diagnosed cases of cancer in people aged 15-75 from 2000-2009 - an average of 750 new cases each year.
Prostate cancer is the most common type of cancer in the district, followed by breast cancer, lung cancer and colorectal cancer.
People in Algoma have higher rates of lung, urinary, kidney/renal pelvis and esophageal cancer than the province overall.
The report also found that while prostate cancer is the most prevalent form of the disease, Algoma residents have lower rates of that type of cancer.
Algoma's overall cancer rate between 2000-2009 was 533.9 incidences per 100,000 people, above the provincial rate of 513 per 100,000.
(PHOTO: An Algoma Pubic Health graph shows higher rates of lung, urinary, kidney/renal pelvis and esophageal cancer in the region)