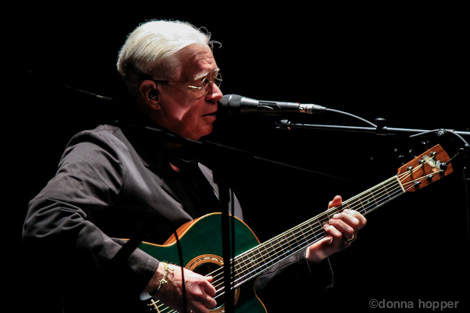 Since the release of his first studio album in 1970, Canadian folk rock artist Bruce Cockburn has gone on to release 30 additional records, has teamed up with T-Bone Burnett, was made an Officer of the Order of Canada, and is the recipient of six honorary doctorates.

He was inducted into the Canadian Music Hall of Fame during the 30th annual Juno Awards ceremony in 2001, and became an inductee into the Canadian Broadcasting Hall of Fame in 2002.

In 2006, Cockburn became the very first recipient of the Allan Waters Humanitarian Juno Award, just one of the 11 Juno Awards he's had the honour of receiving throughout his career.

This past Saturday evening, Mr. Cockburn opened the 2013 Algoma Fall Festival season with a solo acoustic performance at the Kiwanis Community Theatre Centre in Sault Ste. Marie.

Included in his two-set performance were When You Give It Away, Tokyo, Night Train, Lovers in a Dangerous Time, Wondering Where the Lions Are, Pacing the Cage, Call it Democracy, Stolen Land, and All the Diamonds.

He also included the instrumental The End of All Rivers, following which a solitary audience member proclaimed, simply: "Beautiful."

"Thanks," said Cockburn in return. "I try not to suck. Sometimes without success."

It was refreshing to see that in addition to his clear and distinct voice, his dry sense of humour remains intact after 40 years in the public eye.

It was also a pleasure to observe a respectful audience engaged in the live performance experience rather than peering at the artist through a tiny cell phone or compact camera screen.

Celebrating 41 years of excellence in visual and performing arts, the Algoma Fall Festival continues throughout October with performances from Carly Rae Jepsen (October 10), Andrea Martin (October 18), TAJ (October 26), and Jan Vayne and Martin Mans (October 27) among others.

For a complete list of 2013 Algoma Fall Festival performances, please click here.