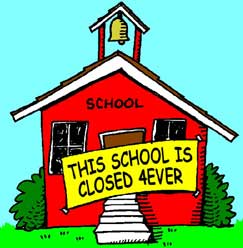 When the school year opens in 2012, the door at Algoma Henry High School will remain closed.
The Algoma District School Board, by way of a unanimous decision, elected to close Alexander Henry High School at their regular monthly board meeting on Tuesday night.
The board had been presented with six recommendations for consideration when the Senior Administration Recommendations Report was presented to the board of trustees:
Close Alexander Henry High School effective September 2012
Expand the Locally Developed Credit Courses (LDCC) for Grade 9 and 10 students effective September 2012 in the three Sault Ste. Marie composite high schools (Korah, Superior Heights and White Pines) with the intent to expand Workplace credit courses for Grade 11 and 12 students in these composite high schools, in the following school yeah 2013-14
Allocate current Grade 8 students who require and LDCC program in Grade 9 to their neighbourhood composite high school effective September 2012
Effective September 2012 provide the opportunity for the current 69 Grade 10 to 12 students studying at the LDCC and Workplace course level and who would have attended Alexander Henry High School to enroll at White Pines as a cohort with the understanding that some students may choose to attend their neighbourhood high school
Relocate the Student at Risk Today (START) program – 10 students on site, 13 students offsite – from Alexander Henry High School to Korah effective September 2012
Relocate the DARE Developing Alternative Realistic Epectations (DARE) program – 19 students onsite, 30 offsite – from Alexander Henry High School to White Pines effective September 2012
The board officially approved the closing of the school while also initializing the other recommendations made.
"Due to the declining enrolment, students at Alexander Henry High School are no longer able to access the breadth of programming required to meet their needs," ADSB Director of Education Mario Turco said in a statement. "The Senior Administration Recommendation Report followed the ARC's recommendation to close the school. Effective immediately we will be putting transition planning into place."
The board was officially provided with the final Accommodation Review Committee report on Nov. 22, 2011 after which they had 60 days to review the report as well as take into consideration any public concerns regarding the report before making their final decision on Tuesday night.
Most students will finish the year at Alexander Henry, though a few have already changed schools.
A small group of students are enrolled at Superior Heights and White Pines, electing to complete second semester at those schools.