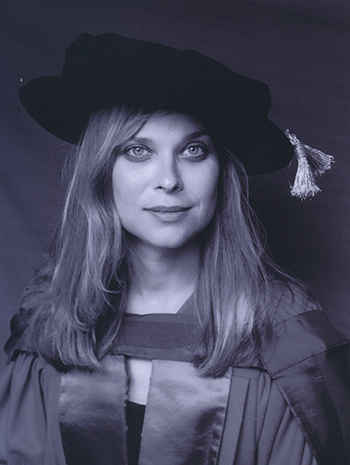 Being in the jungle
This is where fear is born
I'm embarrassed for the jungle
Palms competing for attention
50,000 woody plant species
One fifth of the world's fauna
An excerpt from There are Many Ways to Die While Travelling in Peru by Dr. Alanna Frances Rose Bondar, Associate Professor in the Department of English at Algoma University.
The popular and well-respected eco-feminist poet passed away at the age of 46 on Friday, August 8.
Bondar came to Algoma U. as a tenure-track assistant professor and was tenured in 2010.
In 2012, Bondar had the pleasure of launching her first full length prose poetry monograph, There are many ways to die while travelling in Peru (Your Scrivener Press, 2011), before a full house at the Art Gallery of Algoma in Sault Ste. Marie.
Her infectious smile and laugh, her spirit and enthusiasm, and her love for writing, poetry, and creativity will never be forgotten.
About her book she said, "Readers can look forward to adventure, personal journey, spiritual journey, a lot of humour and an experience they'll never forget."
There are Many Ways to Die in Peru, which is described as a poetic narrative/narrative poetry, explores how high risk adventure lifts the fear that creates barriers to physical and psychological understandings of self, society, spirituality, and solitude.
Bondar received her Ph.D. in English from Memorial University of Newfoundland (2003); and her MA in English and Creative Writing from the University of New Brunswick, where her advisor was the Governor-General's Award and Griffin Poetry Prize winning poet and writer, Dr. Don McKay.
She took her undergraduate degree from Western University.
Bondar's Ph. D. dissertation is entitled "Greening the green space: exploring the emergence of Canadian ecological literature through ecofeminist and ecocritical perspectives".
She was recognized by her academic peers as a cutting edge researcher and scholar in the emerging genre of literary eco-criticism; which revisions our connections within biotic communities.
Student's described her as challenging, engaging and not for those who wanted to be spoon-fed.
Many pointed to her skill as a poet, her expertise in her field and her passion for her craft as an example that inspired them.
Her areas of teaching included 20th century literature and critical theory; Canadian literature; American Literature; 20th Century Poetry; Magic(al) Realism; Gothic Literature and theory; Minority Writing; Women's Literature; Art and Text; Film and film theory; Creative Writing, and others.
Bondar was an inspirational mentor who provided students with formative experiences to express themselves.
Many will remember with great fondness the Jazz Nights/Poets' Pubs Alanna organized for English and Music students, culminating in the "sweat" where all were encouraged, including Alanna, to lay down their ad-libbed verses to try to win the "worm".
Each year Bondar's students prepared the Algoma University's only ongoing journal, Algoma Ink, from conception to finished product under her supervision.
These events and projects also helped to fundraise for Fine Arts, English and Music students to travel to Montréal, New York and Chicago, with Alanna and faculty colleagues, for opportunities for experiential learning.
She encouraged all to follow their dreams and she transformed any class into something extraordinary.
For her friends and colleagues, she hosted annual "Pisces Mardi Gras" and "Love Your Libra" parties, which knit the university community together more tightly.
Bondar always made extra efforts to welcome new colleagues to these gatherings and often invited newcomers to the north to her family's cottage on Lake Huron.
She has also performed with The Hinter Brane Project, an experimental jazz/spoken word group of faculty and former students.
From this group, the current collaborative project, Threshold became possible and promises to be an intriguing walk through visual fields of art amongst sound-fields of spoken word, music, experimental music, and Lake Superior voices.
An accomplished quilter, sewer, potter and swimmer, Alanna was also an ardent gardener and knitter.
She was thrilled to be included in the Art Gallery's garden tour in 2013.
Her friends and family will sorely miss receiving freshly grown vegetables and unique, hand-knit wool socks each year.
Throughout her academic career Bondar was often consulted during the peer review processes of academic publishers concerning new books and articles in her field.
In her final years she produced four peer-reviewed articles and book chapters, where she began to explore the Canada's gothic landscape and its influence on Canadians and their literatures.
Her scholarship has been published in North America and Europe; and Alanna often presented her work at scholarly conferences around the world.
She loved to hike along the shores of Lake Superior with her sister, in summer and winter, photographing the raw beauty of the Canadian Shield, while indulging in Superior Bakery donuts.
Alanna passed away peacefully on Friday, August 8, 2014, in the company of her loved ones.
(with contributions from Algoma University)