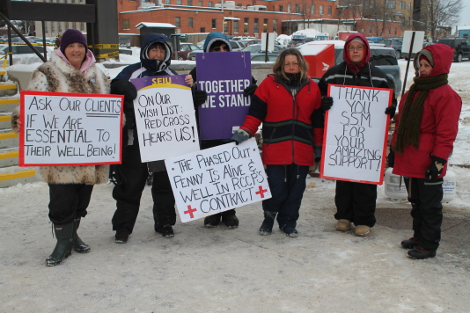 After hitting the picket line December 11, 2013, over 4,500 Personal Support Workers (PSWs) in Ontario, employed by the Canadian Red Cross and Red Cross Care Partners, went back to work December 27.
PSWs provide much-needed home care to the elderly and disabled.
The workers (approximately 150 locally, some of them pictured in December), who picketed in bone-chilling cold, are represented by the Service Employees International Union (SEIU).
The strike action affected approximately 850 clients locally, and approximately 3,000 across the Northeast.
The workers were expecting a fairly lengthy strike, but through arbitration, talks began January 3 and the SEIU and the Canadian Red Cross and Red Cross Care Partners reached a new collective agreement.
The PSWs had been without a contract since April 2013.
While a settlement has been reached, Richmond Hill-based SEIU President Sharleen Stewart, speaking to SooToday.com, said: "It (the new collective agreement) isn't as good as we hoped it would be."
"It's a minor improvement on what they voted down, 11 cents an hour more…the wage increase they got is 22 cents an hour more."
Not a lot, but Stewart said: "A positive is that the employer wanted to pay them a lump sum, which would be a cheque for the year and not show up in their wage, and they will receive a lump sum cheque for the first year of the agreement because that first year has already gone by, but for year two and three they get a 1.4 percent wage increase."
"That's the norm now," Stewart said.
$12.50 an hour is the lowest hourly pay rate for PSWs in Ontario, the highest approximately $18.30 an hour, Stewart told us, adding that the top rate for PSWs working for the Canadian Red Cross and Red Cross Care Partners is $15.02, and that will rise by 66 cents more an hour by 2016.
The workers also wanted greater reimbursement for vehicle maintenance and mileage costs.
PSWs pay for gasoline mostly out of their own pockets, in their own vehicles, when making trips to the homes of clients.
Prior to the strike, they were receiving 34 cents per kilometre in reimbursement.
Beginning in April of this year, travel allowances for PSWs employed by the Canadian Red Cross and Red Cross Care Partners will increase by two cents per kilometre, and one cent per kilometre the following year.
"That's still not acceptable," Stewart said.
To say 'agreement yes, satisfied no' would be an accurate statement, Stewart said.
However, some positives definitely developed as a result of the strike, Stewart said.
"One positive is that the workers and their clients were reunited."
Stewart added: "What happened here is that there has been some education about homecare that the provincial government didn't realize before the strike…these workers brought their stories out into the light, and as a result we have been in improved, regular contact with the government since the strike."
"This past week the Premier and the Minister of Health personally met with six of our PSWs, without the union, just to sit down and hear their story and all that they are required to do in their jobs."
Stewart said her union is currently attending and providing input at provincial government pre-budget consultations.
"In the upcoming budget we're calling for the minimum wage for PSWs to be raised from $12.50 an hour, which was set back in 2006, to a minimum of $16 an hour."
Stewart told us she thinks that request, and others from many groups with many issues province-wide, just might be considered by the government (and hopefully used by the opposition parties), with Premier Kathleen Wynne's Liberals dangling in a minority government situation.
"We're disappointed in the contract but it's a start in a journey…we may not have won the contract but we certainly haven't lost the battle," Stewart said.