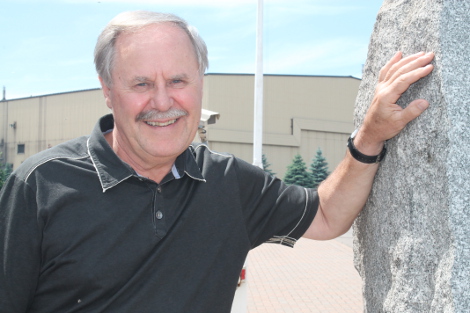 We see, hear and read advertisements about retirement on a daily basis, while friends and family tell us how they plan to leave the workforce.
Ted Dumanski, 69, says retirement never crosses his mind.
Dumanski (pictured outside Essar Steel Algoma) has worked at the steelmaking facility for 50 years, with no plans to leave.
"My wife won't let me retire," he laughed while speaking to SooToday.com. "Truthfully, I can't leave the people. It's my home."
"I do have a great life outside of work with my wife and family," Dumanski said, but, reflecting on how he enjoys working with Essar Steel Algoma's staff, adds "(because of) the people here, I just can't see myself leaving, it's magnetic."
He began work in Algoma Steel's maintenance department at the age of 19 on July 3, 1964.
Dumanski moved into quality control two years later, and now works as a technical service representative inside the mill and gets the chance to meet the steelmaker's clients.
"50 years just flew by, nothing slowed down, and the pace just continued."
"50 is just a number to me, I'm 69 and I don't feel it. It's just a number," Dumanski said.
"I have no will or desire to retire…I'm driven, I just love work."
Dumanski said, like retired people, he still has spare time in which to enjoy travel, fishing, hunting and a fast car, but work for him is essential.
"Work is a part of life," Dumanski said.
Clearly, Dumanski has enjoyed his time with the steel plant.
"It's one of the greatest companies, it was great from day one. The people are the greatest asset this place has, in every department."
"I've had great mentors, I've learned a lot from the people on the floor and in the offices," Dumanski said, and feels the plant has been, for himself, "the University of Essar Steel Algoma."
Dumanski said he feels privileged to share the knowledge he has accumulated over 50 years with a younger generation of workers at Essar Steel Algoma.
"What's most interesting is I'm now moving on to a different group of people, and I call them 'my kids.'"
Essar Steel Algoma management called Dumanski to a "mandatory meeting" in their offices last week, and surprised him with a wrist watch (now being engraved) and a celebration in his honour.
Dumanski said he is proud of the way steelmaking in Sault Ste. Marie has survived several challenges over the decades and is confident of its future success.
While there is a great deal of attention paid to Sault Ste. Marie's economy with words like "diversification" and "innovation," and while there are indeed some other large industrial players in the community, Dumanski said the community has drawn its prosperity from steelmaking.
"People have to realize when they buy these houses and camps, it comes (mostly because of the good-paying jobs) from here," Dumanski said.
"Essar's been good to Sault Ste. Marie."