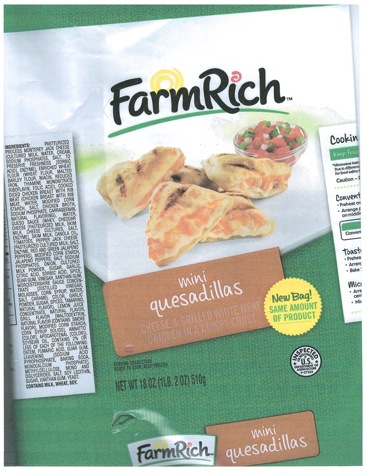 NEWS RELEASE

ALGOMA PUBLIC HEALTH

***************************
Advisory for all American-bound grocery shoppers

Food product recall - Certain Farm Rich Brand frozen food products could contain dangerous E. coli

On March 28, 2013, Rich Products Corporation, a Buffalo, New York firm, recalled approximately 196,222 pounds of Farm Rich brand frozen chicken quesadillas and several other frozen mini meals and snack items.

The recall is due to potential E. coli O121 contamination.

This product was sold to many retail outlets including Wal-Mart Supercentres in the United States.

Consumers who bought this product in the USA are advised to:
Check freezers for recalled Farm Rich brand frozen food products.
Consumers should not eat recalled frozen food products and should dispose of any remaining product. - The recalled products have a long shelf life and they may still be in people's freezers - This is especially important for children 5 years of age and younger, older adults, and people with weakened immune systems.
Persons who think they might have become ill from eating recalled Farm Rich brand frozen food products should talk to their health care provider. - Most people infected with this strain of bacteria develop diarrhea (often bloody) and abdominal cramps.
To read about the signs and symptoms please click here.

For more information on the recalled products please visit here or contact Algoma Public Health at 705-759-5286.

***************************