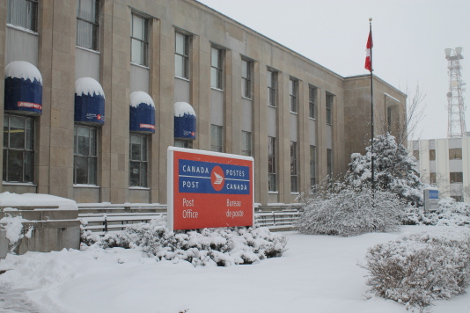 City Council will discuss Canada Post's plans for massive job cuts, changes in service and increased costs for stamps announced in December.
Canada Post's December 11, 2013 announcement of its intention to phase out urban home mail delivery from coast to coast, with a plan to replace that service with the introduction of community mailboxes across the country, has led to no shortage of controversy.
The introduction of community mailboxes (which are already standard in new subdivisions) will mean many of us, with the exception of apartment dwellers, will have to walk down the street to collect our daily mail.
A relatively minor inconvenience to gripe about for those of us who are able-bodied, but an enormous challenge for seniors and others with mobility issues.
The nation-wide community mailbox system (to be established over the next five years), higher postal rates effective March 31, 2014, an increase in the number of franchised post office outlets and a staggering cut of 6,000 to 8,000 jobs over the next five years are measures being taken to address Canada Post's losses, which were reported at $109 million for the third quarter of 2013.
Canada Post claims that, despite the cut of 6,000 to 8,000 jobs, it expects approximately 15,000 of its employees will leave the company or retire over the next five years.
Canada Post says if the changes are not brought in, it could lose $1 billion annually by 2020.
The changes, Canada Post has stated, are necessary as a result of a huge increase in online communication and an accompanying decline in the amount of regular mail Canada Post delivers.
The corporation expects to save $500 million through the community mailboxes, and $700 million to $900 million per year as a result of all of its changes, with a view to achieving financial stability by 2019.
It is not yet known when the first new community mailboxes will be introduced in Sault Ste. Marie, nor how many Sault mail carriers will lose their jobs.
It is estimated there are approximately 70 mail carriers in the Sault and immediate surrounding area.
The Canadian Union of Postal Workers (CUPW) is determined to fight Canada Post's decision (some mail carriers across Canada have even handed in their mail bags and quit their jobs, citing low morale among postal workers and not willing to wait for their jobs to be eventually chopped).
Statements from CUPW have scolded Canada Post for not increasing their revenue by introducing extended services, such as banking.
Postal services in the United Kingdom, France, Italy, Switzerland and many other countries have introduced financial services to offset losses in other areas of their operations, CUPW states.
At the local political level, City Councillors Terry Sheehan and Joe Krmpotich made it known at Council's January 6 meeting that they will be calling on Council to urge Canada Post to reverse its decision, underscoring the impact of community mailboxes on seniors and those with disabilities, the devastating effect of job losses, and the impact of increased postal rates on cash-strapped individuals and families, small businesses and not-for-profit organizations.
A letter to Council from Sault Ste. Marie MP Bryan Hayes, dated January 9, 2014, stated the Conservative government supports Canada Post's planned changes to achieve financial stability.
In his letter, Hayes writes that the changes were decided on after extensive consultations between Canada Post and a number of Canadian communities, maintaining: "The overwhelming message was that Canadians do not want to support these services (such as traditional urban home mail delivery) through increased taxes."
While it is not clear what the City of Sault Ste. Marie, through a Council resolution, can do to persuade Canada Post to reverse its decision, and while the letter from Hayes defends Canada Post's decision as financially necessary, a letter from Sault Ste. Marie Chamber of Commerce President Mark Barsanti (whose Canadian Tire store houses a Canada Post outlet), dated January 10, 2014, urges Council to bring forward an amended resolution.
Barsanti is calling on Council to allow the Chamber and the Sault Ste. Marie Economic Development Corporation (SSMEDC) to help Canada Post develop its package freight business by using Sault Ste. Marie's geographic location as a package freight hub, and develop what he calls "pilot programs" to lessen the impact the loss of home mail delivery will have on seniors and the disabled.