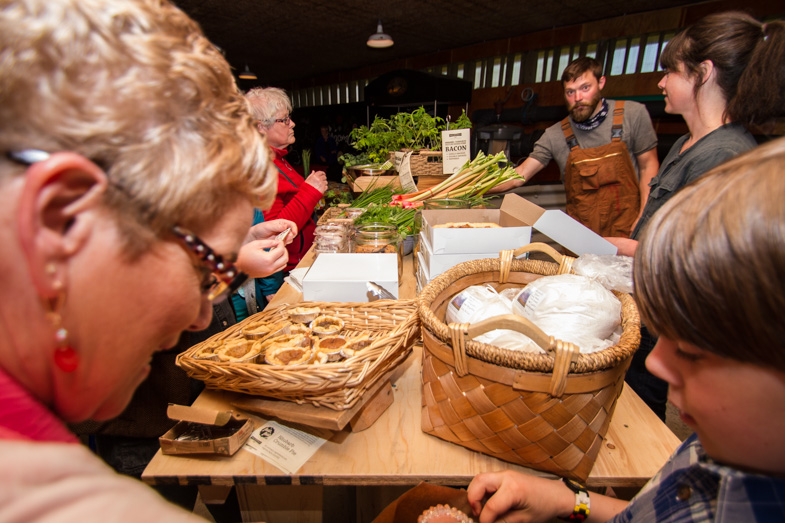 This was not your typical dress rehearsal.

There were no actors, no director, and it definitely didn't take place in a theatre.

This afternoon, the powers that be from Mill Market - Algoma's newest farmers' market - hosted a dress rehearsal (or soft opening) at the newly renovated space located in the former fish hatchery on Canal Drive.

Hundreds gathered to see what the more than 20 vendors had to offer and get a sneak peek at the buggy delights on display at Entomica.

Following the official ribbon-cutting ceremony that included Entomica biologist John Dedes, Mayor Debbie Amaroso, MPP David Orazietti, and Riversedge Developments CEO Justus Veldman, the fresh-obsessed visitors were free to roam and stock their pantries with early-season goods.

"Another really fantastic part of this market is it's an actual destination because we did launch Entomica which is a small insectarium," said Veldman. "There's some really cool insects and some great staff running that facility."

Entomica will celebrate its official 'buggy grand opening' this Saturday, June 7 at 35 Canal Drive from 9 a.m. to 2 p.m.

Admission is by donation.

As for Mill Market, its official opening also takes place this Saturday from 8 a.m. to 2 p.m.

Participating vendors include Valleyfield Farm, Desbarats Country Produce, Twisting Roots Homestead, Cafe Natura, Tammy Paterson (The Queen's Tarts), Homemade by Marley, the Karhi Brothers, Sunnynook Farms, Penokean Hill Farm, The Family Tree, and many more.

For more information about Mill Market, please click here.
For a video account of the Mill Market opening, click here.
Pictured: Hundreds gathered at the old fish hatchery for the soft opening of The Mill Market in Sault Ste. Marie, ON on Wednesday, June 4, 2014. Martti and Melanie Lemieux of Valleyfield Farm were busy selling baked goods, produce and farm-fresh pork. ©Donna Hopper/SooToday.com