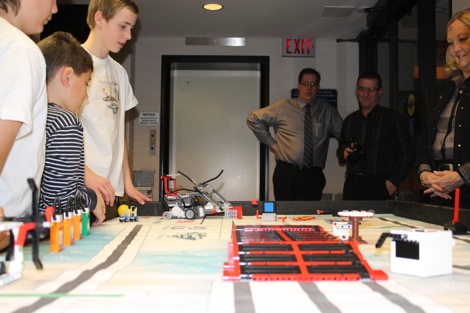 A truly amazing example of young, innovative minds at work.

Members of the Holy Cross First Lego League (FLL) team gave a demonstration of their programmed Lego robot performing tasks on the FLL play surface to Huron-Superior Catholic District School Board trustees Wednesday.

The Holy Cross Chaos team finished an impressive seventh out of 40 teams at the FLL Provincial (West division) championships at the University of Waterloo last month.

Earlier, two teams from Holy Cross competed at the local FLL competition held at Sault College.

Beginning in September, students from the elementary school designed a Lego robot to carry out tasks in keeping with the "Senior Solutions" theme for the 2012-2013 competition.

The FLL play surface component was only one part of Wednesday's demonstration for HSCDSB trustees Wednesday.

Students also displayed a project they carried out to help seniors suffering from macular degeneration, which is loss of vision in the centre of the visual field due to damage to the retina.

Team Chaos came up with a solution for seniors facing this problem by scanning QR (Quick Response) codes on products, such as cereal boxes, and transferred the information to a smart phone.

From there, a user could hear the information with the use of earpieces attached to the smart phone.

Holy Cross teacher Claudia Greco, speaking to HSCDSB trustees, said the students were very inspired and worked hard on their FLL project, spending at least four hours a week, sometimes on weekends, researching, designing and building their team entry.

Greco and coaches, Bill Polnick and Jonathon Budau, helped guide the team throughout the competition.

Greco said that in earlier years, getting a team up and running for competition was "cost prohibitive," but thanked the Board for coming through with financial assistance for this year's competition.

"It was impressive to see how well they represented the Huron-Superior system at the provincials," Greco said, adding that they have inspired students to compete next year.