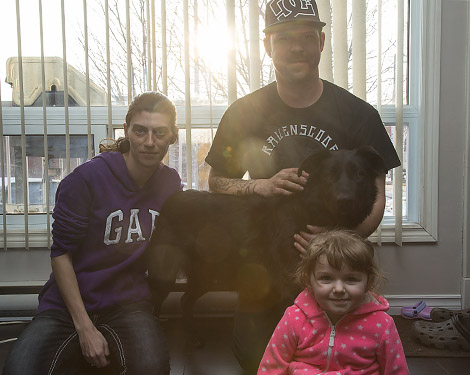 Everybody deserves a second chance.

So says Greg Paul, who recently adopted one of two stray dogs captured in the Pointe Aux Pins Drive area after an investigation into a series of attacks on deer.

Paul had rescued animals in the past, and when he recently relocated to Sault Ste. Marie from Sudbury, he was looking for a dog for the family.

He said Mindy, a lab and border collie mix, stood out immediately when he saw her at the Sault Ste. Marie Humane Society.

She was well-behaved, sitting and wagging her tail, said Paul.

"That was the second time we went looking for dogs. We did check out a few others. Some were really yappy," said Paul.

Paul spent time getting to know Mindy, and took her for a walk before the adoption and said she was extremely well behaved and didn't roam past the leash.

"She's great with kids. The dogs must have been taken care of," said Paul.

Paul said the Humane Society disclosed Mindy's past before the adoption was final, but that didn't influence his decision to adopt.

"If no one had told me, I would never have known," said Paul, who read the stories on SooToday.com after they brought the dog home.

The two dogs were suspected of killing deer and were captured about two weeks ago by the Ministry of Natural Resources and handed over to the Humane Society.

The MNR had originally said their intention was to shoot the dogs.

Mindy has some scarring on her ears and snout, and is still gaining weight from her time in the wild, but otherwise behaves like an average house pet.

"She sleeps at the end of the bed, she doesn't go on the couch. She's just really well-mannered," said Paul.

What does Paul say to people who are afraid the dog is a danger? "Come meet her, come play with her."

The Humane Society is happy that Mindy found a home, said manager Cindy Ross.

"The staff were excited and the dog reacted well to the family," said Ross.
In a previous interview Ross had noted that both dogs were very sweet and not wild.

The second dog is now available for adoption at the society, but there have not been any prospects as of yet, said Ross.
(PHOTO: Christina Labelle, Greg Paul and 2-year-old Lilah Paul recently rescued Mindy from the Sault Ste. Marie Humane Society. SooToday.com/Kenneth Armstrong)

Previous coverage of this story linked below:
Deer-killing dogs to be put up for adoption
Dogs captured, being held by Humane Society (UPDATED)
MNR says dogs will be shot
Reports of two wild dogs, three dead deer